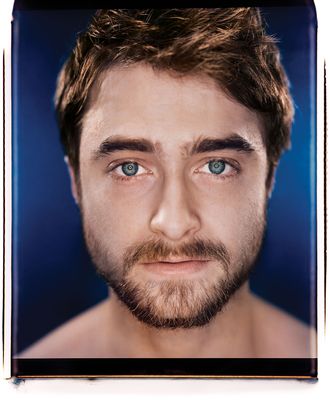 Daniel Radcliffe.
Photo: Bobby Doherty/New York Magazine
Daniel Radcliffe knows that most people refer to his new movie, Swiss Army Man, as "the farting boner corpse movie" — starring Harry Potter. "And I'm totally happy with that!" he says.
Radcliffe, who's joined me for a very un-British iced coffee at the Spotted Pig, near his West Village home, plays Manny, the aforementioned farting corpse, who washes ashore on a desert island while a stranded man, Hank (Paul Dano), is in the midst of hanging himself. Hank soon manages to ride Manny like a Jet Ski, propelled by postmortem gas release, in the most exhilarating sequence you will ever see of a man riding another man across an ocean set to rousing a cappella music. And the wonders of Manny's magical body have just begun. From his drowned bloating comes water for Hank to drink; from his rigor mortis, an arm stiff enough to chop wood; and from within his suit pants, with an assist from a discarded Sports Illustrated swimsuit issue, a mighty erection that acts as a compass guiding their way home.
It's actually a sweet buddy comedy, the first feature film from the twisted minds of the directing team known as the Daniels (Daniel Kwan and Daniel Scheinart), who did the insane video for DJ Snake and Lil Jon's "Turn Down for What," in which a man with another prodigious boner destroys an apartment building. (At least they had practice with that particular special effect.) At Swiss Army Man's debut screening at Sundance in January, there was a steady stream of walkouts; at the one I attended a few days later, booming laughter and a standing ovation. "I remember reading the log line and being like, 'This is either going to be the stupidest movie ever or it's going to be amazing,' " says Radcliffe, who, in a family tradition dating back to his Harry Potter days, had his parents vet the script first.
Radcliffe is the kind of person who actually leans forward as he bounds through rooms, an energy that is only magnified by the copious amounts of coffee he drinks, now that he's sober. "Embarrassingly, I bring my own Splenda, just in case they don't have it. I don't like coffee to taste even remotely like coffee," he says, pulling four or five packets out of his shirt pocket and deftly opening each with one hand. "Everyone's like, 'Splenda and stuff gives you cancer.' It's like, I smoke."
Today is Radcliffe's day off from rehearsals for Privacy at the Public Theater, an experimental Edward Snowden–inspired play about the vulnerability of personal information in this technological age. Portions will be improv ("Which is terrifying, because I've never done that"), and what lines he does have are changing daily, particularly because U.S. freedom of speech means the production has much more leeway to poke fun at public figures than the play did in London. Donald Trump, so far, is not mentioned, though, Radcliffe says, "I think it's interesting to view it all through the lens of you're potentially going to get Donald Trump as your president. Can you trust him to not use that stuff in a way that is not petty and belligerent?" Radcliffe, a staunch "Remain" supporter on Brexit, is fascinated with the parallels of Trump's rise with the divide in the U.K. "It's the worst kind of nationalism, the worst kind of patriotism, and it's scary as shit."
Privacy is Radcliffe's fourth theater production in New York. Between Harry Potter movies and since the series' end, he's been on Broadway three times (Equus, with its famous flailing-around-naked scene; the musical How to Succeed in Business Without Really Trying; and Martin McDonagh's The Cripple of Inishmaan) and has built a vast résumé of offbeat independent films, such as Kill Your Darlings, in which he played a young Allen Ginsberg, and the dark comedy Horns, as a young man who awakens to find he's grown actual horns.
Radcliffe insists he didn't tell his agents to bring him only weird indie movies, but "the scripts that are coming in, particularly since Swiss Army Man, I'm like, 'Okay, I am apparently now the go-to for strange.' Which is great!" He credits Equus for breaking him out of his boy-wizard box. "I've had directors say to me that was the moment everyone knew, 'Okay, he's serious about this.' "
He was certainly serious about playing dead convincingly. At home, he prepped by practicing facial contortions in the mirror ("I can do this thing where I just lower the top lid of one of my eyes," he says, demonstrating) and having a friend carry his limp body around his apartment. Radcliffe insisted on doing his own stunts. Dano recalls his suggesting they rehearse a scene where Hank grabs Manny's tongue and waggles it around: "[Radcliffe] was like, 'If you want to put your hands in my mouth so we get used to it, go ahead!' " says Dano. "I was like, 'Ehhh, we'll be okay.' "
At 26, Radcliffe is deep in the destroying-his-body stage of his career. (He's also just come back from Colombia, where he spent a few months starving and trekking through the Amazon for a movie called Jungle.) "This is the age where I should, because one day I won't be able to, and for now, fuck it, I can," he says. Among the things he willingly submitted his body to on Swiss Army Man were a high-pressure rig inside his mouth that sprayed water like a fountain, and a prosthetic mold of his butt so they could blow air through it. He even gave notes to make Manny's erection more realistic. "The first dick they had was like a broom handle," says Radcliffe. "It didn't have the right shape. You need — in England we call it a bell end." And then he let the directors stick a remote-controlled hydraulic penis in his pants, "which is one of the funniest things I've ever been around." Radcliffe was so game to do everything that the Daniels had to build a dummy of his corpse just so they wouldn't kill him. "There are a couple shots in the Jet Ski scene that are actual Daniel Radcliffe, and he wanted more," says Kwan. "There's one ass shot that's actually him."
The only part of the production he didn't contribute to is the collection of real farts the Daniels asked cast and crew to add to the sound mix. "Paul did one where he grabbed the boom and just put it to his ass," says Radcliffe. "And it's a weird thing to admit, but I don't fart terribly loudly. So I don't think it would've been any good for the film."
He has a lot of personal experience with the themes of Privacy, though. "People always ask me the question 'What was it like to grow up on film?' " he says. "And I'll always be like, 'All the first dates, the first kisses, all that stuff that makes up your youth, that was all still totally private.' " He isn't on social media, partly because it seems like a terrible idea to him, but mostly because he doesn't understand how people have the time. And he doesn't have much to lose if his iPhone gets hacked. "I've never been on the cloud, actually, because I never set it up because I'm an idiot and I don't know how," he says. So he's not worried naked pictures of him will surface? Radcliffe laughs. "They're out there anyway."
*This article appears in the June 27, 2016 issue of New York Magazine.