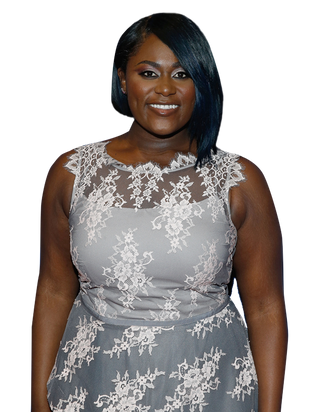 When Orange Is the New Black's Danielle Brooks takes the stage at the Bernard B. Jacobs Theatre, where she currently stars as the fearless feminist inspiration Sofia in Broadway's The Color Purple revival, she arrives with a thunderous growl. She lets out a booming "Hell no!" upon learning of the domestic violence her step-mother-in-law Celie (Cynthia Erivo) has endured, Brooks's voice registering louder than the crack of Mister's (Isaiah Johnson) whip. She's a scene-stealing battle-ax whose strength and charisma never waver, even after the horrors of the Jim Crow South try to break Sofia's spirit.
Making her Broadway debut, Brooks (best known as Taystee on OITNB) delivers a powerful performance that's now earned her a Tony nomination for Best Performance by an Actress in a Featured Role in a Musical. Ahead of the Tonys on Sunday, Vulture spoke with Brooks about playing Taystee and Sofia in the same day, working with diverse casts, Prince, and challenging the "sassy black woman" stereotype.
What was your introduction to The Color Purple?
I saw the film first at church or summer camp, but my first real memory of The Color Purple was when I got to see it when I was 15. About 11 years ago, my dad took me to see The Color Purple on Broadway, and that was my first moment with it. I really credit The Color Purple for my desire to be a part of something greater than I could ever imagine. I come from South Carolina, where people are doing community theater or educating in the arts, but it showed me the possibilities of what I could do. Here we are ten years later and I'm in it!

Had you always wanted to play Sofia?
Not at all, strangely. I always thought it was a part that would be cool to play. But at the time, I was shooting Orange Is the New Black and I remember they announced that Jennifer Hudson was joining the revival cast. I remember saying, "I can't wait to see who they put together because this is gonna be a feared cast." [I wasn't] even thinking about the possibility of me being in it because I already had a job. And then my manager called and she said, "Danielle, would you be willing to try to juggle both shows?" I was like, "What are you saying?" And she said, "They want you to audition for The Color Purple." I immediately got super-excited, just thinking how cool it could be. Both parties were willing to play ball and negotiate my time. So I was shooting Orange at the same time as The Color Purple, and I'll be going back to that schedule next month. It wasn't something I expected, but boy am I glad it worked out.

Sofia and Taystee are both strong black women trying to survive in oppressive environments, though Taystee more so by choice. How do you approach their two very similar stories – sometimes even in the same day?
I think they both inform each other. Taystee is trying to discover what it is to be her sister's keeper as she's taking on this new role as "mom" of the ghetto dorm. For Sofia, she naturally has that; she wants to take care of her sisters. She comes in right from the beginning trying to let Celie know that she doesn't have to take any crap from anyone. But they're both strong birds who fall. Both have been knocked down by society and failed by the world that they live in. I definitely see parallels between both of them, and they're both the comedic relief of their shows. I enjoy playing both because being on a stage eight shows a week is very different from being in a studio for 14-plus hours a day. I'm really glad I got to go back to my roots, which is theater. When you're shooting a TV show, there's no breathing or rehearsal. The Color Purple has reminded me to take an extra second to really dissect each character and stay truthful, even with Taystee, and just go that extra mile when looking at the script. Vice versa, going into Sofia after having done TV really taught me that you need to make smart, creative decisions quickly. My first rehearsal with Sofia, I wasn't holding back anything, which made me come up with some really cool choices for now.
Watch Brooks perform "Hell No" in The Color Purple:
There's that element of the sassy black woman stereotype at play in each character. Do you ever worry about being typecast or having to find nuance within that stereotype to add depth?
It's interesting because that's just part of who they are. The beauty of the storytelling that I get to do is show that they're more than that. With the writing of both characters, I get to find their dimensions. And, you know, that's also just a part of our truth. I hate stereotypes, but a part of who Danielle is is that [stereotype]. That doesn't make me a one-noted person or my characters one-noted. There's so much depth to who they are: They're broken, they're heroes, they're mothers, they're sisters, they're women fighting for their marriage, fighting for their lives — there are so many elements to who these women are. That's what makes me so interested in playing them, especially a character like Sofia who can sometimes be so generalized. I get to show onstage that she's more than just someone who's barking and yelling all day; there are reasons for why she is the way that she is.
That's why I love storytelling: You can bring people into the theater or have people sitting at home from all walks of life, watching Taystee or Sofia, and they get to see how they relate to these women. Or even have them be like, "Damn, I really do judge women who are like these characters. There's so much more to them than I could've ever imagined." Sometimes you need that stereotype, and I think it takes a really fine actor to massage the words — even when you don't have good material — and milk that character for more than what's there. Fortunately for me, I've had a lot to work with.

You've had a rare start to your career in that nearly every project you've worked on so far (OITNB, TCP, Master of None) has had casts that are predominantly, if not all, actors of color. Do you actively look for diverse projects, or has it just worked out that way?
It's not something I particularly thought of. When I first booked Orange, I was just glad to have a job. I didn't even know it would be so diverse, because I really only got one page of the script. I didn't know who was involved or anything. All I knew was a bit about my character, and that I didn't want to play a stereotype. Even with Sofia, that's just a classic American story that needs to be told, and I knew how transformative it was for my life, so I knew I had to be a part of it. I've also been able to work on Girls, Masters of None, and I've done a few independent movies at this point. When it comes to diversity, the thing that I most look forward to is the creatives being diverse. Getting to work with creative minds like Lena Dunham, like Aziz Ansari, like Jenji Kohan. When I step on to the set of Orange Is the New Black, so many of the producers are women, the directors and crew are starting to be women, there are people of color behind the scenes — that excites me. I'm glad to see more diversity, and I'm looking forward to seeing what happens in the future, if people really will be inspired by this movement that's happening and that we continue to propel it. The most important thing for me is that everyone feels represented.
The cast of The Color Purple were one of the first to perform a Prince tribute the day he passed away. Whose idea was it to sing "Purple Rain" onstage immediately after the show?
It was a very short conversation during intermission that I actually got to witness. Our music director, Jason Michael Webb, brought the idea to the cast, and of course we were all down. I was just so honored that we got to give a moment to Prince, his legacy, what he's done for the world, and his music.

What does it mean to you to get your first Tony nomination for your Broadway debut? You're living the Julliard grad dream.
I am so humbled by it all, to be honest. This is my first Broadway show, and I've put a lot of sweat and tears into all of this. So for it to be recognized in such an esteemed way, I'm very, very grateful. I don't want to take for granted anything that I've been blessed with because there are so many actors out there who are just striving to get their foot in the door, be seen at an audition, book something, make ends meet while they're trying to support their love of acting — and I get to do it. I'm very thankful to just be in this position as one of the five nominees for supporting actress in a musical this year. The Tonys is always something that I watched growing up, and I always hoped to be one of those people sitting at the edge of aisle. To now get to be one of those people is so cool.

Oprah got her first Oscar nomination for her film debut as Sofia in The Color Purple film adaptation. What conversations have you had with her about playing this iconic role?
I haven't had many conversations with her about it, actually. She's come to see the show twice. But it was cool because before she saw the show, we did an interview with her for OWN and I got to tell her my journey of how I got to this point. I told her how her personal Masterclass, when she talked about surrendering to her moment of trying to get Sofia, how that was parallel with me trying to book Sofia and how that was so helpful to me. Getting to hear her journey and then tell her mine, that was such a beautiful moment for me. There are gonna be a ton of Sofias, just as there are a ton of Othellos — that's just the way theater works. But she's really allowed me to do my own thing and I appreciate that.

OITNB has been renewed for three more seasons, and I'm sure you've heard Jenji Kohan is producing another Netflix show. Where do you see yourself going from here?
Staying on the Broadway stage for a few more months. I hope — fingers crossed —  to come back to Master of None. And just staying on the Orange train. I don't know what's next, I kind of just wait and see.