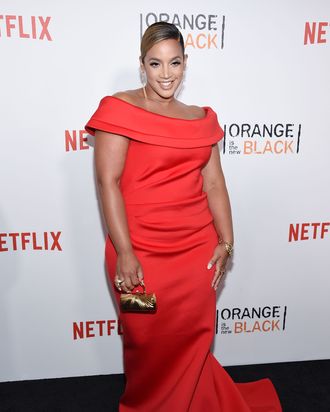 Photo: Dimitrios Kambouris/2016 Getty Images
Spoilers ahead for episodes 12 and 13 of Orange Is the New Black season four.
Season four of Orange Is The New Black stars off as a slow boil that bubbles over in the finale's heated, inmates vs. guards standoff. One in which Litchfield's unlikeliest candidate for violent confrontation — Dayanara Diaz — is left pointing a gun at the "pieces of shit" CO's. Vulture caught up with Dascha Polanco, who plays Daya, at the season-four premiere of OITNB to talk about what was going through her character's head in that moment.
"That's her outburst. She's reached her tipping point," says Polanco. "Dayanara has been too nonchalant. She doesn't have her baby, her father left, her mother's not there. It's like, I'm going to show why I'm here. She's just over it."
As for the heartbreaking cafeteria scene that pushes Daya, and the other inmates, to their breaking point — the cafeteria protest that leaves Poussey dead at the hands of one of the guards — Polanco says: "It was very sad for all of us. We're a family, the original group. People that come in knew what it was before, but we knew before it was anything, and there's a sense of commitment to it. On set we all cried — we did not expect [to]. But everything happens, you know. Next season it could be me. It could be whomever. We know that everything has an end, and unfortunately … we're all very nervous and tense about what is to happen next."