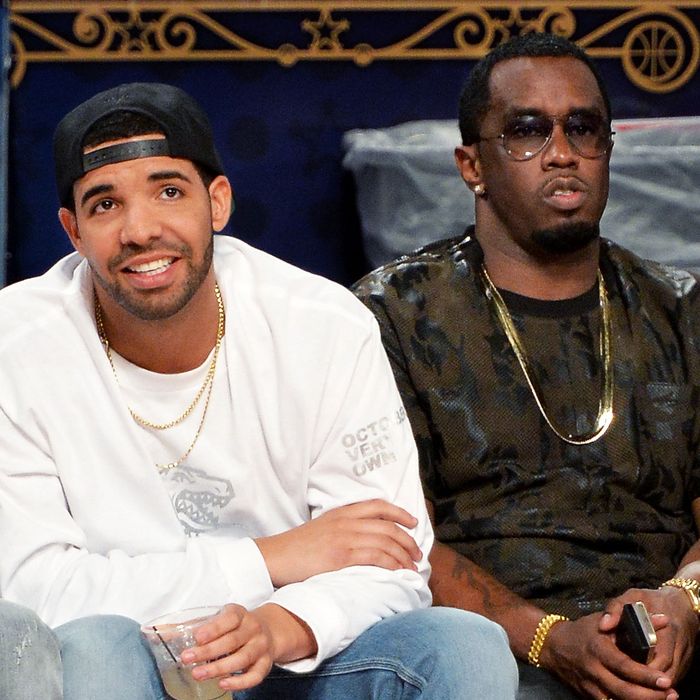 Drake with Sean Combs, 2014.
Photo: Mike Coppola/Getty Images
If there's a poet laureate of pettiness today, it would have to be Drake. As an artist whose rhetoric is laced with incessant reconsideration of slights real and perceived and whose hostility mostly manifests in open-ended, passive-aggressive asides, the Toronto superstar has built no small portion of his reputation through appealing to the less passionate but more common aspects of the self. He longed after people without committing himself to loving them; he was always sad but never depressed; he was frequently annoyed but never enraged. A democrat of the spirit operating in a deeply hierarchical art form, he succeeded in making greatness seem smaller, more accessible; conversely, by embracing pettiness as such, he sometimes managed to render it insightful and moving. As the delusions of individual grandeur inspired by film and television yielded to the constant awareness of one's insignificance relative to society at large fostered by online media, so too did the titans of an earlier era of rap give way to Drake, always self-centered and alone but never free to see himself beyond the views of others. Like any pure careerist, Drake has definite objectives, but no definite identity. He's a composite sketch of the human race, a Rorschach inkblot residing in a Calabasas mansion.
But, whether with Drake or in general, pettiness can only be enjoyed for so long. In much the same way that recklessly tweeting and subtweeting used to be fun, it used to be daring for Drake to expose his neediness to an ex-girlfriend while insulting her current boyfriend in a drunken late-night cell-phone monologue; and it was easy to sympathize with his desire to force his former classmates to pass through a security checkpoint for their high-school reunion until you realized that going on Facebook meant attending an endless high-school reunion. Like anything natural, pettiness has an expiration date: You either discard it as beneath you — or you witness it condense and harden into spite.
If Drake's recent album, Views, demonstrated his inability to rise above his lesser self, his new track "4PM in Calabasas," released over the weekend on OVO Sound, marks his transition into the wide world of spite. Unlike his recent chart-topping hits "Hotline Bling" and "One Dance," in which the artist sings weightlessly over lighthearted instrumentals, "4PM" features Drake rapping cleanly, firmly, and very bitterly over a swiveling EPMD instrumental punctuated by clipped, heavy bass notes. As Drake's repeated appropriations of catchphrases particular to Diddy ("Take that, take that," "Can't nobody hold me down") and allusions to Diddy-adjacent '90s cultural icons (the rapper Ma$e, the girl group Total) indicate, Sean Combs has been singled out for insult by the Toronto rapper who Combs, in the most Dostoyevskian pop-culture moment in recent memory, allegedly slapped several times outside a Miami nightclub in 2014 for stealing the song "0 to 100" from him. ("You will never disrespect me again," cried the mogul after dealing out the requisite slaps.)
Whatever Drake's faults may be, impulsiveness is not one of them: Like all his other actions, the verbal assault on Combs has been carefully premeditated. Unlike the other prominent American rap artists (Meek Mill, Jay Z, Kendrick Lamar) who have clashed with Drake in the past few years, Combs is not a rapper who writes most or even any of his own lyrics, relying instead on ghostwriters: This means that Drake's own usage of ghostwriters (indeed, the verses on "4PM" seem too dense and intricate to have been penned and scanned exclusively by Drake) is effectively a nonissue. A verbal duel between Drake and Diddy will involve far fewer charges of ghostwriting and far more usage of ghostwriters: Their opposing verses will be roughly equal in wit and technique, and given that Drake's delivery is superior to Diddy's, the advantage lies with the Canadian – or seems to. A rap titan proud almost to the point of sociopathy, Combs will inevitably respond to "4PM in Calabasas," and he's too wily of an industry operator to be counted out: expect more reversals of the sort demonstrated by Meek Mill when, tipped off by Drake's ghostwriter about the coming diss track "Summer Sixteen," he prepared a point-by-point reply ("War Pain") that he released immediately after Drake's track.
In any case, the feud is sure to entertain: Spite is more fun to observe than pettiness, after all. And it will hardly be an isolated incident: As events elsewhere online and in real life prove, 2016, despite being only half over, is already shaping up to be a banner year for spite, especially of the political variety. While Drake and Diddy argue over insults and injuries, the Republican presidential candidate is hoping that his bare-faced appeal to (predominantly white) resentment will be enough to win the keys to the White House. I don't expect any better from Trump, but it's hard not to wish that, in the season of Trump, one of the leading figures in rap music could find something better to do than pick a fight with another giant in an attempt to recuperate some of the credibility he lost with Views. Even if his fight songs all go hard as "4PM in Calabasas" (and make no mistake, the track is a banger) the only way Drake can really do better or bigger — meaning better and bigger than himself — is to let his grudges go.