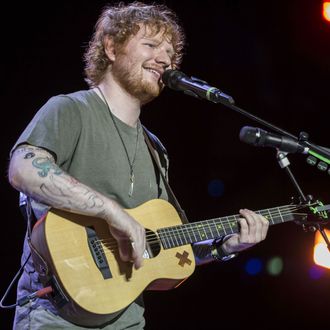 Here we go again.
Photo: Glenn Hunt/Getty Images
Another day, another hit that might've been stolen: Ed Sheeran is being sued for allegedly copying one of his biggest hits, 2014's "Photograph," from an X-Factor winner. Songwriters Martin Harrington and Thomas Leonard claim Sheeran copied their 2009 song "Amazing," which was performed and released by 2010 British X-Factor winner, Matt Cardle. They're seeking $20 million in damages, plus either an injunction on the song or future royalties. Although their demands might sound steep, they've hired a lawyer who's already made the seemingly impossible possible. Working on this case is Richard Busch, the same attorney who represented Marvin Gaye's family in the infamous "Blurred Lines" plagiarism case, which ultimately sent shock waves through the music industry by winning the Gayes $5.3 million in a controversial victory over Pharrell and Robin Thicke. Now he's back using a similar argument against Sheeran. "The songs' similarities reach the very essence of the work," the lawsuit says, claiming that "Photograph" copies chord progressions, notes, melodies, and even words and vocal style from "Amazing," particularly in the chorus.
Sheeran has said he wrote the song in 2012 with Snow Patrol's Johnny McDaid, who is also named in the lawsuit along with Sony/ATV Songs, Warner Music, and Polar Patrol Music Publishing. The lawsuit claims that Sheeran and his team have known about the allegations of theft, but are still profiting off the song, recently licensing it to the film Me Before You. Just when Sheeran thought he could go off for the radar for a bit. Compare the two songs below.