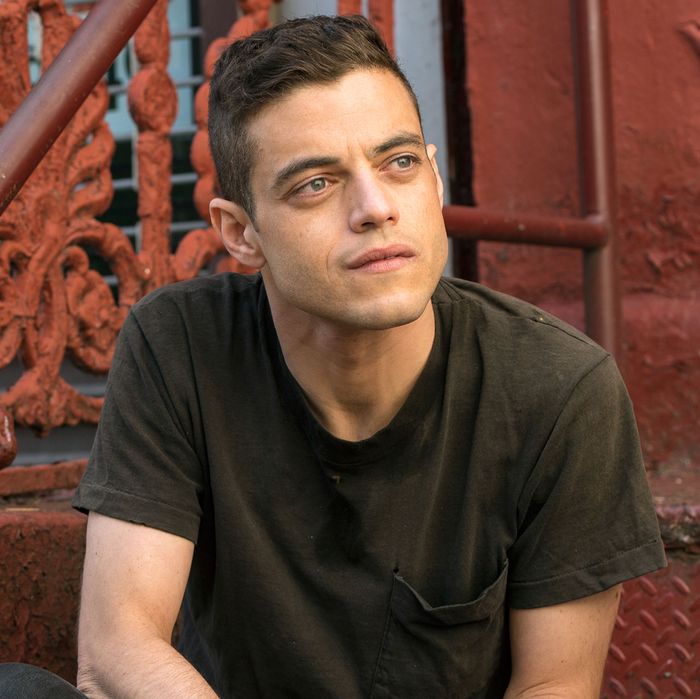 Nominate me.
Photo: USA Network
The 2016 Emmy race has begun, and Vulture will take a close look at the contenders until voting closes on June 27.
When it comes to the award for outstanding drama series, Emmy voters have a tendency to repeat themselves. Historically, there have been numerous instances of redundant winners in this category. Over the past four decades, Hill Street Blues, L.A. Law, The West Wing, and Mad Men have each received four Emmys, in most cases in consecutive years, making it seem like no other drama would ever win an Emmy, ever. And when the nominations are announced, especially during recent awards seasons, it often looks as though Emmy voters simply copied and pasted their lists from the previous year.
For example, in 2015, when the number of outstanding series nominees in both the drama and comedy genres was officially expanded to seven, four of the best drama nominees still wound up being shows that were honored the year before. In 2013 and 2014, when we were still dealing with six best-drama nominees, five of the series recognized by the Television Academy also had been recognized by that same Academy the year prior. There's a similar lack of variety in the best comedy category, as exemplified by the nonstop nominations for Modern Family, whose five-year winning streak was broken just last year by Veep.
In a time of such abundant television, it's odd that the Emmy love isn't being spread farther and wider than it is. Then again, maybe it makes sense. With so much to watch — seriously, this year's Netflix for your consideration package alone could obliterate a small village — maybe it's even more tempting for voters to simply go with the quality shows they already know (and probably have already watched).
What does that mean for this year's nominees, to be announced July 14? Well, if the pattern of repetition holds, it may be tough, albeit not impossible, for newcomers or previously overlooked shows to break into the field.
Let's start with newcomers. Over the past decade, ten shows have been nominated for best drama in their inaugural seasons: Better Call Saul, True Detective, House of Cards, Homeland, Boardwalk Empire, Game of Thrones, The Good Wife, Mad Men, Damages, and Heroes. As a general rule, usually only one, and very occasionally two, just-out-of-the-gate series get nominated in this category, with the rest of the nominees going to shows that have been nominated before. (The last time two debut dramas were recognized in the same season? The year 2011, when Game of Thrones and Boardwalk Empire both made the cut.)
With Mad Men out of the way, there may be a bit more wiggle room than usual, which is good news for dramas that have a chance to snag nods in their first seasons: Mr. Robot, Billions, UnREAL, and maybe a Horace and Pete or an Underground. But if only one of those is able to command the attention of voters, my money's on Mr. Robot, which has the loudest buzz and critical acclaim; unlike the others, it's also considered a lock by various Emmy prognosticators, including Scott Feinberg at The Hollywood Reporter, Indiewire's Ben Travers, and Gold Derby).
The mountain is slightly harder to climb for overlooked shows that are well into their runs but still trying to capture their first outstanding drama nominations. During the past decade, seven shows earned their first nods in their second or third seasons — Grey's Anatomy, House, Boston Legal, Dexter, Big Love, Breaking Bad, and True Blood — while Friday Night Lights scored a long overdue nomination for its fifth and final season. (Downton Abbey and Orange Is the New Black didn't show up on the outstanding drama list until their second seasons, but that's only because their first seasons competed in different categories: miniseries/TV movie and comedy, respectively, where both were honored.) The last time an overlooked series finally caught Emmy attention was, once again, in 2011, when Friday Night Lights was included. In recent years, it seems, if you don't get on the outstanding drama radar in season one, it's really hard to get on it later.
That means some really well-regarded series that have submitted their second seasons for consideration this year — like The Leftovers, Outlander, and The Affair — face significant obstacles getting nominated, while it seems next to impossible for a show like The Americans, now in its fourth season of delivering terrific television that's ignored in the outstanding drama category, to receive the nomination it clearly deserves. (To borrow the insightful words spoken by Ben Affleck during his recent rant about Deflategate on Any Given Wednesday With Bill Simmons: The Americans not being nominated for outstanding drama is the ultimate bullshit fucking outrage of Emmys ever.)
Inevitably, there will be some repeats in this category. I can't imagine Game of Thrones, which won its first outstanding drama Emmy last year, not getting another nomination; the same goes for season two of Better Call Saul; Downton Abbey's swan song; and House of Cards season four, though I'd much prefer to see The Leftovers or The Americans bump Frank Underwood out of the way.
Still, once in a while, Emmy voters do realize they've overlooked something important and attempt to course-correct. They finally nominate a beloved series like Friday Night Lights, or a fan-favorite genre show like True Blood, or give the Emmy to Breaking Bad two years in a row after not voting it to victory for four seasons. Yes, business as usual with a couple of nice surprises is usually the best we can hope for from the Emmys, even though we're living in a time when TV is constantly surprising us, all the time, every day.