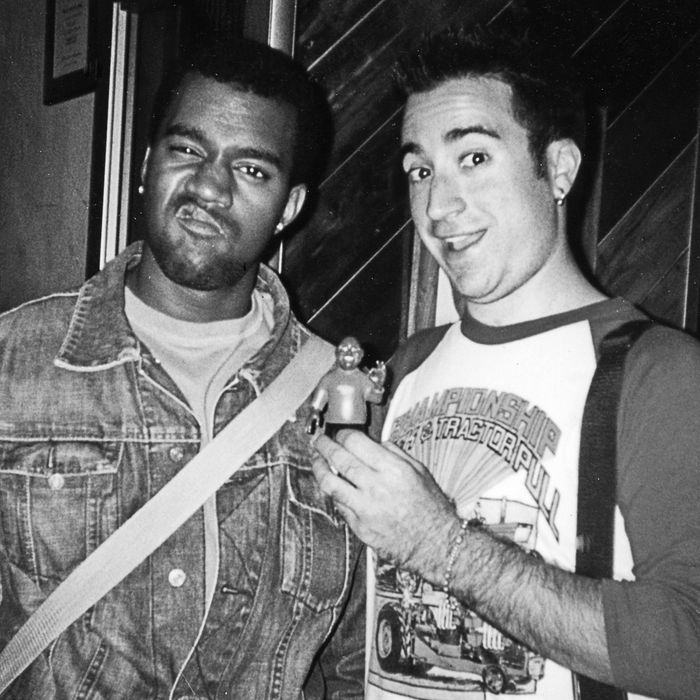 Photo: Photo courtesy of Jensen
More than 15 years ago, before he was host of the popular Earwolf podcast Get Up on This and co-owner of L.A.'s pop-culture-focused Gallery 1988, Jensen Karp was Hot Karl, an up-and-coming rapper who parlayed competitive freestyle success into a record deal. His rap career never took off, but he did come away with some juicy tales. Now you can read the best of those stories in Karp's new book, Kanye West Owes Me $300: And Other True Stories From a White Rapper Who Almost Made It Big, which is out today. As a taste, Vulture has the exclusive excerpt from the title story.

The day after I became the most unlikely hundred-thousandaire in hip-hop, I began working at Baseline, a now-defunct multi­room studio where, at the time, Jay Z was recording The Blue­print next door. No matter what time of day it was, you could see any of the biggest rappers in the world working or just walking room to room to say hello. Baseline would be the epicenter of Roc-A-Fella Records in its heyday, the birthplace of most of the label's biggest hits. Hov, Beanie Sigel, Young Gunz, and Free­way all recorded songs there, and I like to think I was the only white rapper to have done the same, a theory I dreamed up after Memphis Bleek once asked me for a soda in the kitchen area, assuming I was a studio intern. I regularly joked that my record­ing sessions there looked like the opposite of Hootie and the Blowfish.
I first heard of Kanye West, an eventual Baseline frequenter, through beats given to me by my manager at the time. In antici­pation of my first NYC trip, he passed me the snippet CD that read in Sharpie "K. West," hoping we could find someone new (and cheap) to include in our itinerary. Kanye was being touted as an emerging producer and had yet to really take off since re­cently moving from Chicago, but I was told that a handful of rappers were currently writing to his stuff. Also, two of Roc-A-Fella's main consiglieres managed him, so I assumed he was at least producing a few songs for the dudes who held Jay Z's weed.
At this point in rap history, the "beat CD" was the industry-standard vehicle for producers to introduce their work to rappers. Think of it as a business card of sorts. Producers would submit instrumentals to labels, managers, and artists, in hopes of get­ting rappers to flow on their music and getting a check for the release. I had heard every beat CD making the rounds at the time and everything started to sound alike. All I kept doing was bug­ging the label to connect me with Just Blaze.
It was nearly impossible to avoid a Just Blaze track when listening to urban radio in the early 2000s, and his rise to dominance is important to note when discussing Kanye's ori­gins. Just Blaze's signature sped-up, chipmunk-sounding soul samples are an essential part of the era's legacy, and I was a huge fan. So when my team told me I was being directed toward Kanye (who shared a manager with Just Blaze) instead of my pick, I insisted that we just keep bugging them for their top dog. I felt cheated, like I asked a DJ to play a Michael Jackson song and he instead played Alien Ant Farm's cover of "Smooth Criminal." Eventually Interscope informed me that Just was too busy to take on new work, and I was told some­thing that, for better or worse, would stick with Kanye for the first year of his production career: "When you can't afford Just Blaze, you get Kanye West."
This theory was echoed by their shared management and somewhat validated by Kanye's similar dependence on soul and pitched-up samples. For as unique as Kanye West has become, his origins lacked the inventiveness he now displays on every new release. When I became friends with Just Blaze years later, I told him about this anecdote and he shrugged it off with class, explaining, "Everyone starts somewhere," and that he had never heard the saying before. For the record, I think he's being a nice guy and knows exactly what I'm talking about.
But even though he had a reputation as a plan B, I wanted to give this "K. West" CD a listen. After only a few seconds of the first song, I called my manager and told him to set up a time for Kanye and me to chat. After listening to the rest of his music, I fell in love with a later instrumental track that sampled Laura Nyro's "Woman's Blues," and I knew it would fit perfectly on my album. Jay Z would later turn that first beat I heard into "Izzo (H.O.V.A.)," so I sleep better at night knowing that even though I had the chance to make that Jackson 5 sample my own, Shawn Carter did more with it than I ever could have. On the result­ing conference call with our managers, Kanye was polite and ac­commodating, excited to be making what would be, at the time, the most money he ever made from music: somewhere between $5,000 and $7,500. But that all took a quick turn when he heard which track I selected. The vision and stubborn determination we're now accustomed to seeing from Kanye suddenly cropped up out of nowhere.
"But that's the one I made for Ghostface," Kanye explained.
One of his managers, Gee, reminded him that Ghostface had heard it and passed.
"Yeah, but I gotta talk to him. Pick another one."
I said excitedly, "Oh, you know Ghostface?" Even after my personal experience with RZA, I still wasn't cool enough to hide my enthusiasm whenever Wu-Tang was mentioned.
"No," Kanye said abruptly.
Gee quickly changed the subject, knowing they had a bird in the hand from Hot Karl, and that Ghostface had no intention of working with Kanye. We compromised by agreeing that I would write to the beat, and if Ghostface were to change his mind in the next two weeks, we'd pick another one and go from there. But no matter the resolution, Kanye didn't say another word to me for the rest of the phone call.
I was never late for a session. I was raised with a strong work ethic, and while I'd sometimes have to wait five or six hours for a rapper to arrive, or to get stood up by Fred Durst, I treated this job like it involved the government. So when I got to Baseline Studios for my first day with Kanye a few minutes before our session was supposed to begin, I was surprised to see him already at work. I was also pretty taken aback by what "K. West" looked like. The swagger you see in the megastar now was entirely ab­sent. His Enyce tracksuit jacket and baggy pants were about two sizes bigger than anything a rapper would wear, even in 2001. He was sporting an outfit that a fifty-year-old woman in a ward­robe department would put together if a "rapper" was mentioned in your script. We were more than a decade away from rappers mentioning Tom Ford and Marc Jacobs in songs—or from Kanye debuting his own weirdo high-end clothing line during Fashion Week—but the guy just looked plain goofy. And the gold chains and Jesus piece that would eventually appear around his neck were replaced by the only bling he had at the time: adult braces. I vividly remember saying "This guy looks like Bowfinger" to my manager, who would whisper "Urkel" in my ear over and over.
Coincidentally, K. West seemed just as shocked to see what H. Karl looked like, and not just because I wasn't Ghostface Killah. He took one look at my vintage rock shirt and ripped jeans and seemed instantly relieved. While most rappers would've just as­sumed I was there to play bass on the song, he found it comfort­ing.
"Aw, man! I would've dressed like myself. I do this for rap­pers," Kanye explained, pointing to his outfit, which was so baggy it could've doubled as a Jesse Pinkman Halloween costume. And on our second day of recording, he transformed just like he promised. The future icon ditched his Juggalo-esque threads for a Jim Morrison T-shirt and rock-inspired jeans. Don't get me wrong though, he still looked nerdy as fuck.
And in turn, Kanye was treated like the ugly stepchild of Baseline Studios. He was too eager and too dorky, lacking the restraint and tough-guy persona that ruled rap music, and more specifically New York City, for decades. When he heard me rhyme the Karlito-inspired line "Me and Kanye made this real picante and grande / While you suckers act—Armand Assante" on our song together, he visibly displayed excitement, saying no one outside of his friends had said his name on a track yet. Tradi­tionally, he would've pretended he didn't even hear it, trying not to look so fervent. He talked too fast and altogether too much, a tendency we now know is something he can't change as fast as his wardrobe. On that first day of recording, we found ourselves alone in the room together, and that's when he let me in on a secret.
"You know, I rhyme too," Kanye nervously divulged, making sure no one else heard him.
I was caught off guard. No one had even mentioned that he was more than a producer. Not even in passing was he called a rapper.
"I'm actually keeping a lot of the best beats for my own shit," Kanye said confidently, seeming to forget I just paid something like $7,000 for a beat he didn't think was his best shit. "I'm just doing this to rap."
But the way Kanye said it, that first time we met, it felt like he was telling me something he wasn't supposed to share—something someone constantly reminded him not to bring up in sessions. I'd learn quickly that no one at Baseline considered Kanye a rapper. They'd get annoyed whenever he'd talk about it. Even his managers rolled their eyes when he mentioned his rap career. Everyone knew he was a talented producer—with only that one complaint, that he sounded like an affordable Just Blaze—but popular opinion was that he didn't have the skill, or look, to take the stage himself.
I remember one day while recording, Kanye played an early version of "Jesus Walks," several years before its release, to a room that included myself, some A&Rs, some assorted industry types, DJ Clue, rapper Fabolous, and engineer Duro. As the song played, Kanye acted out and mouthed his lyrics, something he always did while his own music played, and I assume still does. He acted as if a music video was always being filmed around him, displaying yet another example of the unaware enthusiasm (and egotism) that would make him the butt of almost every joke at Baseline. The song ended, some people shared some positive (but subdued) comments, and Kanye left for the kitchen. A few seconds passed before the entire room erupted in laughter. A few people even mocked him, mimicking his rap voice and making fun of his over-the-top zeal. One major producer in the room even asked his assistant to make sure Kanye never performed like that again. Lucky for him he didn't have to, because three years later, "Jesus Walks" would win a Grammy for Best Rap Song. (No joke here. He deserved it.)
Let's be straight, though. I too was "a hater," and just as guilty of underestimating Kanye, when, in reality, I should've under­stood being underestimated more than any rapper in the game. You see, when I first met Redman, who I recorded a track with on this trip and paid way too much for, we sat and talked for twenty minutes about what would become of our joint effort. I played him the track, with my raps already recorded onto it, and smiled ear to ear when I saw him bobbing his head along to my words. We threw around ideas for his part and talked about his philosophy on writing lyrics. About an hour into the ses­sion, after I thought we had a real creative connection, he politely asked when I thought the rapper would arrive. Confused, I told him I was the rapper. I was also the guy he had been collaborat­ing with for the past hour and the dude paying him to be on the song. He admitted that he thought I was just the studio assistant, leading me to wonder just how much musical credit Redman is giving studio assistants. Right then I promised myself I would only feature rappers who were actually my friends. For example, I wanted to have an underground remix of the Redman song featuring up-and-coming MCs like myself, not just dudes we paid $15,000 to pretend they were my friends. So I asked my pal Mr. Eon from the High & Mighty to participate, and Redman suggested—slash demanded—that we use his buddy Ikarus. I obliged because "at least he's someone's friend."
I called Kanye to see if he wanted to hang out at Baseline that day, and he showed up early once again. At some point during the day, Kanye asked my manager if he could also jump on the remix and I still kick myself to this day about my response. Now, in my defense, my opinion about his rapping ability at the time was shared by most of us around him. And people who hear his early demos still agree; he just wasn't very good. He sounded like a crappy Ma$e and was so breathy that sometimes I couldn't even understand his punch lines. I remember he played me one new track over the phone where he used only movie titles as lyr­ics. I could understand maybe five of them tops. He sounded more excited by what he was saying than any listener would be. So when my manager asked what I thought about adding him to the remix, I laughed. I told him to say it was already too long and suggested that he could be one of the many voices that yelled the hook. So, if you're keeping score at home, I said no to Kanye West rapping, but yes to two rappers you've never heard of, and paid another to mistake me for a studio employee, just so a soon-to-be rap superstar could be one of the seven voices yelling one word during the hook (which he is). Also, why are you keeping score of a book?
After recording our song, Kanye would come to LA fre­quently to record with rappers and meet with labels about his own career. I would hear behind-the-scenes talk that labels like Interscope, Capitol, and Atlantic were also unimpressed with his rapping aspirations, but were eager to work with him as a pro­ducer, so they'd take the meeting. One radio DJ I knew called to tell me that one of my friends from New York visited their weekly station meeting, played his song unbearably loud, and jumped on the conference table to sing along. He didn't have to tell me who it was. I knew.
Kanye started to get buzz for his continuous work with Jay Z and Beanie Sigel and was developing an R&B guy, who also worked with will.i.am, named John Legend. Since we kept in touch, we would also try to hang out during his visits to the West Coast. We weirdly saw the movie Master and Commander together, which Kanye loved and I fell asleep during. We went to Las Palmas together, where he would pay DJ AM $50 to scratch the part of "Guess Who's Back" where Jay Z said his name. And one of our meals together was at the Mel's Drive-In off Hol­lywood Boulevard. (Funny enough, I would stand outside that exact Mel's location as Kanye's face was projected on its sidewall to debut a new song in 2013.) I paid for that lunch, and that wasn't the only time I paid for something Kanye needed, a con­cept that now makes me laugh harder than a bunch of rap dudes at Baseline hearing "Jesus Walks" for the first time.