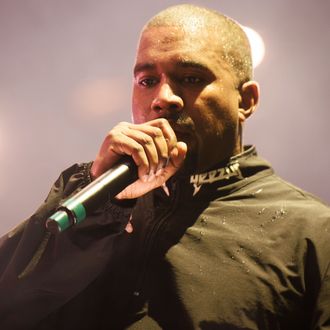 You won't have to run around NYC to see him this time.
Photo: Dave Kotinsky/Getty Images
If your festival's Kanye Day gets rained out, it's cool, just create a whole new festival to make up for it. That is exactly what the organizers behind Governors Ball have done, announcing today the inaugural Meadows Music and Arts Festival to be headlined by Kanye West and the Weeknd in October. It becomes the latest addition to the New York City festival family, after the people behind Coachella encroached on Gov Ball's territory with the creation of Panorama Fest. Instead of the overused Randalls Island, Meadows Fest will be held in Queens at Citi Field and Flushing Meadows Corona Park. It will also be the city's newest fall music festival, held on October 1 and 2 (the same weekend as the Roots' inaugural New York City festival at Bryant Park). But don't worry, Mets fans with big October dreams — they're in Philly that weekend.
"The booking of Kanye West was born out of his weather-related cancelled appearance at Governors Ball 2016," the organizers said. "Founders Entertainment saw a booking for West at the new the Meadows Music and Arts Festival as a way to follow through on bringing him to New York City for his only North American festival appearance in 2016." Chance the Rapper, Kygo, the 1975, Grimes, Bryson Tiller, Pusha T, Empire of the Sun, and dozens more are also set to play. (See the full lineup below.)
Update, September 22: After a slight scheduling conflict, the Weeknd is back on the Meadows Fest lineup! The festival had previously announced that he had to drop out — to perform on the SNL premiere, as we later learned — but it turns out, he'll just be there at an earlier time. J. Cole is the replacement Saturday headliner; as of now, Kanye West is still your Sunday headliner. Got it? Phew.