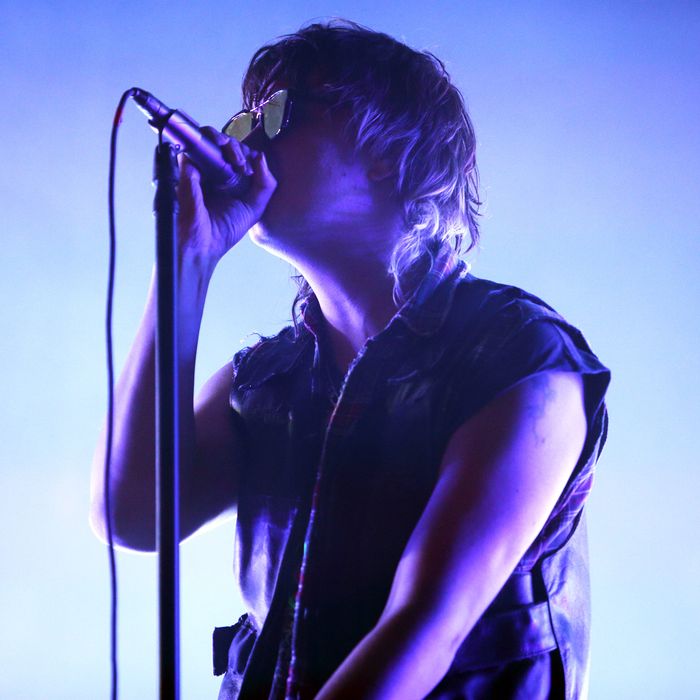 Julian Casablancas, of the Strokes performs live on day one of Governors Ball festival at Randall's Island on June 3, 2016, in New York City.
Photo: Burak Cingi/Getty Images
Summer music festival season kicked off in earnest this weekend at Governors Ball on Randall's Island, a three-day exhibition of the many advantages and pitfalls of live outdoor music in the city. At its best, Gov Ball exemplified the strange kinship and character of New York's music scene, from performances by disparate local acts like Action Bronson to Matt and Kim to fast friendships forged out in the sprawling crowd. As the weekend drew to a close, though, an unfortunate cocktail of inclement weather and Randall's Island's wide-open grassy fields resulted in the cancellation of the entire Sunday lineup, originally due to close with a performance from Kanye West, his first since the February release of his seventh album, The Life of Pablo. Between a simmering Friday night closing set from local rock vets the Strokes and the madness last night in Manhattan as fans scrambled to find Kanye, all the possibilities of a night out in New York City were on display.
Friday represented a homecoming of sorts for the Strokes. The Manhattan quintet has scarcely played since touring for 2011's Angles, and only once in New York City proper, at Gov Ball two summers ago. Last week the four-song EP Future Present Past announced a slight return, but arriving fashionably late at Gov Ball's main stage to low lights and a veil of smoke, the Strokes reminded us of the timelessness of their jagged love songs. Peering out at the crowd behind blood-red reflective sunglasses, singer Julian Casablancas retained every bit of the cavalier loverboy ennui he exuded while rolling out zingers like "Life seems unreal, can we go back to your place?" on 2001's classic Is This It. That album would account for eight of the night's 20 songs, and each one sent the audience into a frenzy of pumped fists and spirited sing-alongs. The rest of the set was split between choice cuts from 2003's Room on Fire, 2006's First Impressions of Earth, and the new EP, whose "Threat of Joy" got a great response.
The lack of representation of Angles and 2013's orphaned, under-promoted Comedown Machine was a peculiar but possibly sage move; the main stage at your city's biggest music festival is not a place to pick through lost gems. The energy only dipped during a mid-set trip through First Impressions' baroque vox-and-organ showcase "Ask Me Anything" and Future Present Past's "Drag Queen," which was perhaps too busy and too new for the crowd to grok, despite a driving dance-punk groove. The Friday-night show flew as high as the set list veered straight. The former brats of the downtown rock scene are now its elders, trenched in a new nostalgia they once seemed sent to demolish. The Strokes were up to the task, though, as was the Gov Ball crowd, if the labyrinthine line of sweaty, sated concertgoers filing out of Randall's Island across a bridge back to Manhattan immediately after the encore, "You Only Live Once," was any indication.
The mood wouldn't linger. A shock of late-afternoon rain drenched Saturday's attendees (but failed to deter anyone from braving the 40-minute line for Kanye West merch created specifically for the event). Though the clouds would clear in time for Saturday's closer, the Killers, a promise of thunderstorms on Sunday, alongside an hour of intense downpour early in the day, led Randall's Island to close its grass fields, effectively canceling the entire day. This sent a dozen acts scrambling for indoor spaces in the city. Secret Bacardi House Stage headliners Prophets of Rage — a supergroup featuring members of Public Enemy, Cypress Hill, and Rage Against the Machine, whose Gov Ball appearance would've been their second show ever — landed at Warsaw in Brooklyn, while Melbourne indie-rock bard Courtney Barnett, Irish guitar rock trio Two Door Cinema Club, and rising rapper Vic Mensa booked popular spots around the Lower East Side and Brooklyn. Kanye West popped up during his G.O.O.D. Music record label's main-stage set during Hot 97's all-day Summer Jam at New Jersey's MetLife Stadium, and that was that … until West's friend Virgil Abloh announced a secret show scheduled for 2 a.m. in Manhattan.
Rumors on Twitter suggested that Kanye would play Webster Hall after fellow Chicagoan Vic Mensa, and a crowd of thousands quickly descended on the venue, making the tiny section of 11th Street between Third and Fourth Avenues impassable. With West and his protégé Travis Scott engaging breathless fans through the moonroof of a car trying to make it up the blocked street, the scene took on a transformative absurdity, but the lateness of the hour coupled with the throngs of fans in the streets proved insurmountable, even for a Kanye West. To quote the man himself, no one man should have all that power.
If the Strokes embody the disaffected, downtown New York cool of eras past, the goose chase for a Kanye West concert that ultimately never happened shows what's replaced it: the open thirst for an elusive, exclusive magic moment, the fear of missing out, and the power of social media to summon a mob at a moment's notice. Friday night showcased the freewheeling energy of a well-organized rock show, but Sunday night was a clinic in what music fandom has become in the modern age. The thousands willing to weather mud, rain, lightning, and the very real possibility of violence and arrest on a work/school night are proof positive that caring is cool again. The Webster Hall crowd assembling, chanting, singing, and dispersing without any report of arrests is a message to city officials currently leery of large-scale rap shows that hip-hop is not a culture of violence but rather of inner-city solidarity and youthful exuberance.