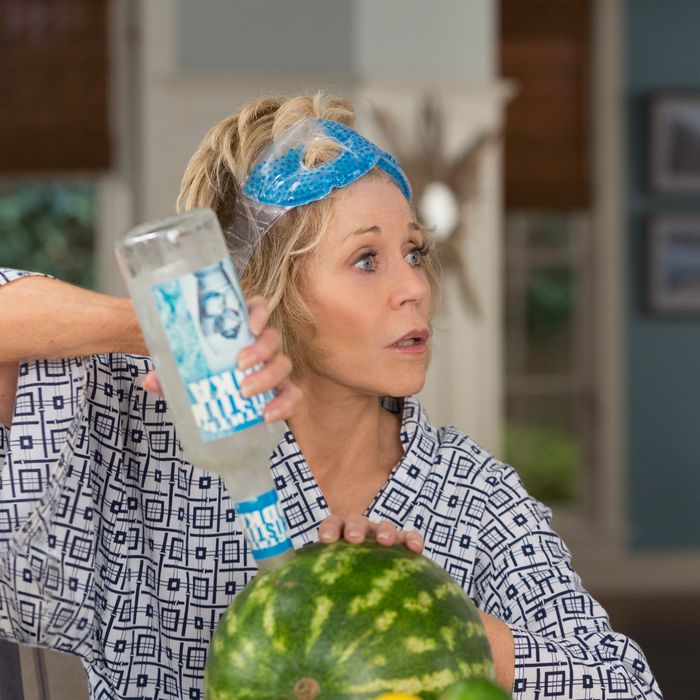 Jane Fonda as Grace.
Photo: Melissa Moseley/Netflix
Early in the morning, Frankie wakes up to do a ceremonial dance, burn her vagina paintings, and roast marshmallows. What a way to start the day.
When she ambles back to the beach house, cleansed of her corporate flop, she sees her dear friend Babe looting her house with a little red wagon. Babe thought Frankie was having a fire sale, so she helped herself to some dream catchers and all-season decorative gourds. It's been so long since Frankie has seen Babe, and she catches her up about the goings-on of the past few months. The most shocking thing? Grace and Frankie are living together. She invites Babe over, and they giggle about how she hated Grace. Babe tells Frankie she's going to have one of her famous parties — a party to end all parties. The monkey who picks pockets won't be attending, but it'll be lit anyway.
Robert and Sol arrive at Sol's apartment, and Robert says that at this point in the night Sol should ask him to come up. He doesn't want Sol to know he's easy. When we see Sol and Robert the next morning, it's clear that Robert might have been a little easy. In the harsh light of day, we can also see just how terrible Sol's apartment is. The street is noisy, and it gets no morning sun! (It's funny to find out what a rich person's version of a terrible apartment looks like.) Robert asks why Sol didn't find a better apartment. Sol thought this was what he deserved, if only so Robert will never doubt how sad Sol was over the whole ordeal. The power of shitty apartments.
Grace wakes up hung-over and immediately goes to the freezer to grab her trusty bottle of vodka. While cutting fruit for her lunch with Jacob, Bud, and Coyote, Frankie realizes that this is the perfect time to start her patented three-step emotional healing system! Step one: Talk about it! Grace just wants to drink her feelings away like the good WASP she is, so Frankie tries to sweeten the deal with watermelon, which is "basically celery in a Lilly Pulitzer dress." I'm getting that tattooed on my stomach. It's my "THUG LIFE."
Too bad Grace just wants to lie in bed and watch terrible people buy tiny houses. Same, bitch. She cuts open the watermelon, empties her vodka bottle into it, then takes it up to her room to "marinate." After taking a walk, Grace ends up with that Angry Lady Bartender in the middle of the morning, drunk off martinis.
Bud and Coyote came to the beach house with store-bought deodorant for Frankie, who rushes in, asking about her outfit and how to wear her hair. She puts the deodorant on her wrists and hands, then flits back out. Coyote is stunned that she's actually nervous to see a man who isn't their father or Art Garfunkel. Bud is immediately suspicious. Jacob could be all sizzle and jazz and braiding garlic with someone else on the side. When he arrives, Coyote immediately thinks that he's a good man, but Bud isn't so convinced. He launches into an interrogation (but don't call it that) about Jacob's marriage, his yields, and whether or not he has a love child with Cher. Bud is just worried that someone might hurt Frankie again. He thought his father was the nicest man on the planet, but he did what he did. Frankie tells him not to worry about her.
Meanwhile, Robert and Sol share a sweet breakfast of Special K for a special moment when loud music starts to bump from the neighboring apartment. Robert makes the most of the interruption and asks Sol to slow-dance. Somewhere much less romantic, Grace is playing darts with Workers' Comp and Abandoned Husband, two other weirdos who are drinking in the middle of day. Angry Lady Bartender cuts Grace off, but Grace asks Abandoned Husband to lift her up so she can ring the "shots for everybody" bell hanging over the bar. Of course, she also starts to make out with him. Angry Lady Bartender drags her out, but she doesn't want to go home because they make you talk about feelings there. Grace's final parting shot? She tells Angry Lady Bartender that her martinis aren't the best in town. That honor goes to the Cheesecake Factory. Damn, that's cold.
Grace stumbles back to the beach house and starts drinking out of the sink. When she ambles to the table where Frankie, Bud, Coyote, and Jacob are finally getting along, she can't control herself and starts eating cake with her hands. Grace is ready to purge her feelings. She thinks Frankie bullied her into reconnecting with Phil and feeling her feelings. Everything Frankie touches is a failure, Graces says, so she doesn't even care when her friend fails. Grace says she was better off without Frankie. Whoa. Jacob picks Grace up, carries her outside, and drops her on a patio chair to sleep it off.
Sol and Robert are back at Chez Solbert and they realize that their house is too full of bad memories: Robert's heart attack, Sol almost getting battered with a plunger, their relationship almost being discovered because of an illicit kiss on Y2K. Robert thinks it's time for them to find a place that can be their own.
Later that night, Grace wakes up on the patio and goes off in search of her alcohol. Frankie has thrown out every last bottle. The ones in the freezer. The secret kayak stash. The one hidden in the craft bin. All of it. So Grace steels herself to drive to the liquor store in sunglasses. She's so sloppy that her purse spills out and she leaves her car keys on the seat.
Frankie is out with Babe buying party supplies — like a cross-eyed bear piñata and paper flowers — when she finally asks what the theme of the party will be. A sweet 16 for her breast reduction, perhaps? Babe tells her that she's known the theme all along: a party to end all parties. It's a bon voyage … for her life … forever. And Babe needs Frankie's help to do it.
Inside the liquor store, Grace realizes that she can only buy tiny airplane bottles, so she fills a paper bag with them. When she walks back to the parking lot, she realizes two dudes have made off with her car. Yep, that's what happens when you leave a car on, unlocked, with your purse inside. She's basically Cher in Clueless with a ruined Alaïa. She calls Frankie for help. Unfortunately, Frankie isn't taking her calls right now.