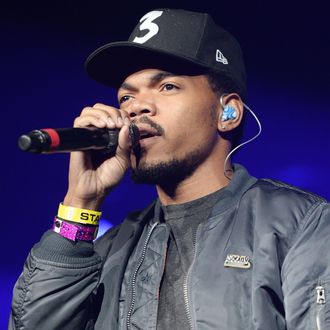 Chance the Grammy Winner?
Photo: Scott Dudelson/Getty Images
"I hear you gotta sell it to snatch the Grammy," Chance the Rapper once dissed the Grammy overlords. Not anymore! The Recording Academy has announced that streaming-only music will finally be eligible for next year's Grammys in a sweeping new set of changes. (Previously, the Grammys only allowed music available for commercial purchase to be nominated.) But before you get any ideas about your free SoundCloud mixtape walking away with a golden gramophone, settle down. The new guidelines clarify that "streaming-only" includes music on services that are "paid subscription, full catalogue, on-demand/limited download platforms" and have existed for at least a year as of the submission deadline (September 30). So free music is still a no-go with the Grammys, and the newly launched SoundCloud Go or Amazon's potential new subscription service wouldn't meet the deadline. But, say your name is Chance the Rapper and you released your latest mixtape as an Apple Music exclusive and have still never sold it? Then you may just snatch that Grammy after all.
This game-changing news comes at a time when music streaming has never been more powerful. In May, Chance became the first artist to ever chart on the Billboard 200 solely off streams, while Kanye went No. 1 off majority streams before him. Drake, meanwhile, has had the No. 1 album in the country for six consecutive weeks off the strength of streaming, with Views having surpassed 1 billion streams. Even more remarkable, the biggest streaming weeks in U.S. history have all come within the last six months.
In addition to including streaming, the Grammys have also amended some other rules and categories. Grammy voters can now only vote in 15 non-general categories (down from 20), as a way to get people to only vote for what they know. And to be considered for Best New Artist, you'll no longer have to release an album within the eligibility timeframe (October 1, 2015 to September 30, 2016) — a minimum of five songs will do, but no more than 30. Best Rap/Sung Collaboration is now expanded to Best Rap/Sung Performance, a change the Recording Academy admits is essentially meant to accommodate Drake, who both sings and raps on his solo songs. Best Blues Album will now be divided between Best Traditional and Best Contemporary Blues Album, like many of the other genres. Grammy nominations are announced December 6.