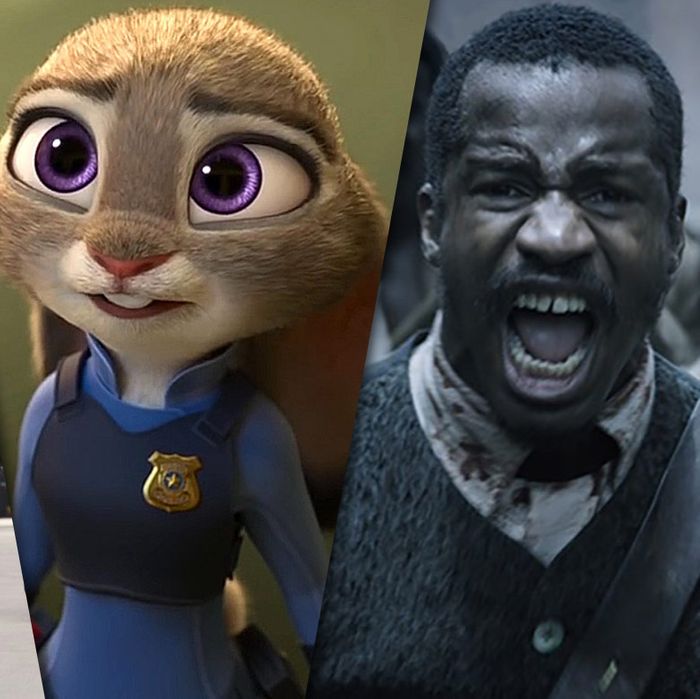 Photo: Marvel, Disney, Bron Studios
Last year at this time, we had an unlikely Oscar juggernaut in theaters: Mad Max: Fury Road, which would go on to garner ten Academy Award nominations and win five, more than any other movie in its field. This year, not so much. Among those nominations that Mad Max managed was a highly coveted Best Picture nod, but 2016 has not yet delivered a movie into theaters that looks capable of crashing the Best Picture field, let alone picking up more than two or three stray nominations. So what have we seen so far that might contend? And what light can be shed on what's to come now that we have two major film festivals under our belt? Here's an early Oscar overview.
Of the films that have actually come out in theaters, the strongest Oscar contender is Disney's Zootopia, a massive critical and financial hit that is about to cross the billion-dollar mark worldwide. This is for sure the Best Animated Film front-runner, though there are still some heavy hitters yet to come in that category, including Pixar's Finding Dory and another in-house Disney project, Moana. I think Zootopia's clever screenplay could earn a nod, too, especially since its themes of racial prejudice give it real-world heft, and Shakira's "Try Anything" is well-positioned for a Best Original Song nomination since it's played roughly one million times and performed in full at the end of the movie.

I predict three nominations for Zootopia, then, which is more than I can say about any other movie that's been released this year. Several films might muster up one lone nod for Visual Effects, including Captain America: Civil War, Batman v Superman: Dawn of Justice, and The Jungle Book, which currently leads that field. It's possible that one of those films could score a nod in Sound Editing or Sound Mixing, too, though those categories have increasingly favored year-end prestige product (and no Marvel movie has earned a sound nomination since the first Iron Man).

There are a few other scattered movies contending for, perhaps, one unique nomination. Both Alice Through the Looking Glass and The Huntsman: Winter's War underperformed at the box office, but three-time Oscar winner Colleen Atwood could still be nominated for the films' striking costumes. The delightful Sing Street has several original songs that ought to contend, though it's in the news mostly because its director just lambasted Keira Knightley. And the dry, dystopian The Lobster more than deserves consideration for its screenplay.

Still, we're not looking at juggernauts here. We didn't find many this past month at the Cannes Film Festival, either, though that prestigious fest is usually good for at least one or two Best Picture nominees. The closest thing to a real contender Cannes could offer is Loving, a fact-based drama about a landmark case legalizing interracial marriage, though it left some Oscar watchers rather dry-eyed. Still, the film could find a better reception when it opens stateside this fall — plenty of critics who didn't see it in Cannes will be eager to put their imprimatur on it — and the lead performances from Joel Edgerton and especially Ruth Negga will demand consideration.

Ken Loach's poverty drama I, Daniel Blake took the Palme d'Or in a surprise decision, but I don't anticipate the Academy sparking to it. One of the most critically acclaimed English-language films on the Croisette was Andrea Arnold's American Honey, featuring Shia LaBeouf, but this nearly three-hour road-trip movie about hopeless, bacchanalian youths is likely to alienate older Oscar voters from hour one. Two buzzed-about performances could contend for Best Actress — Sonia Braga for Aquarius and Isabelle Huppert for Paul Verhoeven's controversial Elle — but it's not easy to score a foreign-language nod in that category unless your name is Marion Cotillard.

The biggest Cannes haul will likely come in the Foreign Language Film race, though it's not yet clear whether films like the well-reviewed German comedy Toni Erdmann, for example, will be submitted by their home countries. Still, watch out for Iran's The Salesman, Belgium's The Unknown Girl, Spain's Julieta, and South Korea's The Handmaiden as potential nominees. And keep an eye on the virtually dialogue-free The Red Turtle, an animated wowser that could give Zootopia a run for its money.

Ultimately, the Oscar field hasn't changed much since January, when two major contenders premiered at Sundance: Nate Parker's galvanizing slave drama The Birth of a Nation, which could earn big nods in Picture, Director, and Actor (and, if it manages all three, will make Parker a triple nominee), and Kenneth Lonergan's wounded character portrait Manchester by the Sea, likely to pick up nominations for Picture, Director, Actor (Casey Affleck) and Supporting Actress (Michelle Williams). While I'm hopeful that a few offbeat Sundance picks can contend — the eye-opening documentary Weiner, for example, or the pitch-perfect actress Tika Sumpter as Michelle Obama in Southside With You — both Birth and Manchester continue to dwarf the field, though neither of them made the trip to Cannes this year. They're likely lying low until the fall, when three big film festivals, in Venice, Telluride, and Toronto, will give us some competition and a whole lot of new narratives. Until then!