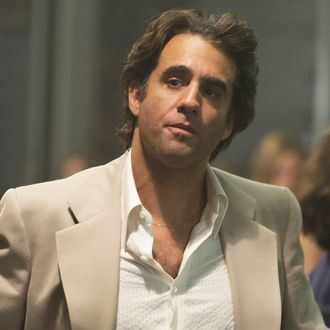 HBO has decided to turn Vinyl into a single: Reversing a previous renewal, the network has canceled its big-budget, Martin Scorsese–produced record-industry drama after just ten episodes. "After careful consideration, we have decided not to proceed with a second season of Vinyl," the network said via a prepared statement. "Obviously, this was not an easy decision. We have enormous respect for the creative team and cast for their hard work and passion on this project." An HBO rep declined to offer further explanation for the about-face, but it almost certainly is related to the recent exit of programming chief Michael Lombardo and the subsequent promotion of Casey Bloys as his replacement. Rather than spending the early days of his tenure trying to turn around perception on Vinyl — a commercial dud with mixed critical response — Bloys can now spend his time (and HBO's money) on fresher projects. Still, the timing of HBO's decision is … awful.
For one thing, the cancellation comes just a few months after the very high-profile firing of Vinyl showrunner Terence Winter. That move put a spotlight on HBO's recent troubles launching hit dramas, and made it seem the network wasn't quite as talent-friendly as it once was. Had HBO simply canceled Vinyl without pushing out Winter, it could've avoided a whole bunch of bad PR. But a month after Winter exited, Lombardo announced he was stepping down, too. The sequence of events suggest that Lombardo's exit left Vinyl without one of its key supporters, prompting today's announcement. It's also possible Bloys and other HBO execs heard details of what the new Vinyl showrunners had planned for season two and decided to pass. (There's nothing to suggest this is actually what happened, and, again, HBO execs weren't talking. But it's common for producers to outline in advance where they see their show going in the next season.)
There's another way the timing of the announcement seems off: Voting for the 2016 Emmys is currently in its final days. TV Academy members weighing whether to give the show their support may now think twice about wasting it on a dead show (though it's hardly unprecedented for Emmy members to get behind canceled series). While it's not likely Vinyl was going to clean up in the Emmy nominations, today's news probably won't help. As for HBO, the network no doubt knows it will face another round of "What's Going on at HBO?" stories. But whatever short-term pain it'll endure is likely less than the hurt which would come from an unsuccessful season two of Vinyl.