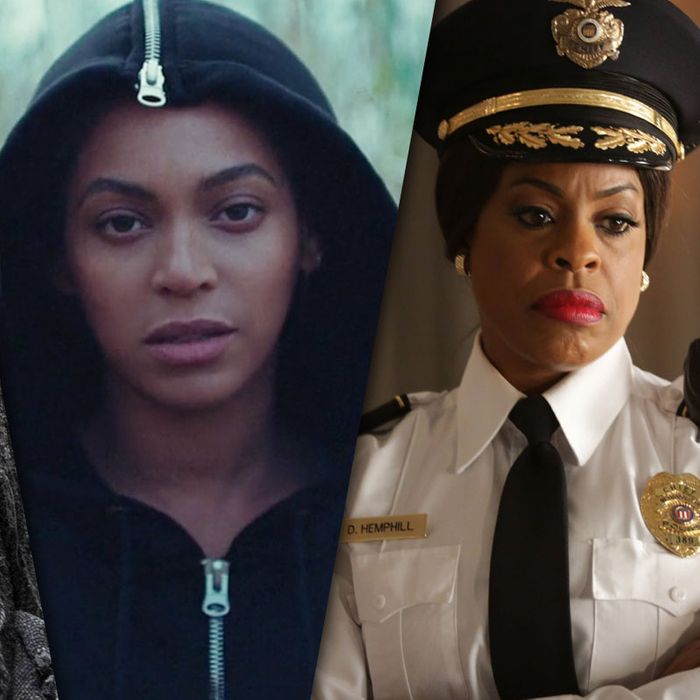 With the intrusion of streaming services, the rise of limited series, and the collapse of major network programming, you could spend hours pondering, "What is TV?" Luckily, you don't have to do that, because the Emmys categorize television for you — or at least they try to, as they partition the amorphous blob of "things you watch on a television, or maybe a laptop, and yeah, occasionally your phone" into recognizable categories. Vulture took a deep dive into this year's Emmys ballot, which was released on Monday, and examined which shows are trying game the system, which stars have opted out of the race, and which programs have surprisingly sneaked into contention.
1. Orange Is the New Black is a drama, but Jane the Virgin is a comedy. Per the latest Emmys rules, which went into effect last year, comedies are defined as half-hour series, while dramas are hour-long. Some shows can petition into other categories, but only a few make it. Orange Is the New Black is competing as a drama for its second year in a row (previously, it was considered a comedy). Crazy Ex-Girlfriend, Jane the Virgin, Scream Queens, Shameless, and Devious Maids are some of the few that successfully petitioned their way into comedy.
2. Also according to those rules, True Detective has moved to the limited series — formerly "mini-series" — category. It'll go up against Fargo, which won the category back when True Detective was a drama.
3. Wait, what is a television movie? Netflix's Marco Polo, which debuted late in 2014, has found a way to stay relevant by entering its one-hour spinoff special as a television movie. It'll compete against the likes of Confirmation, Sherlock: The Abominable Bride, and Tyler Perry's The Passion, which is not competing as a "Special Class Program," the chosen category of The Wiz Live! and Grease: Live.
4. Beyoncé's Lemonade is competing for best variety special, and in the variety special for recognition in production, editing, costuming, hairstyling, sound mixing, cinematography, and directing (Kahlil Joseph and Beyoncé herself are the only listed directors, despite HBO's attempts to add a few more directors' names to the ballot).
5. Louis C.K.'s web series–experimental TV-esque project Horace and Pete is competing as a full-fledged drama, with C.K. and Steve Buscemi listed as the leads, and big names Jessica Lange and Edie Falco in the supporting categories. (Laurie Metcalf, who stopped by for a show-stopping monologue in episode three, might be the series' best chance for recognition, as she's in the guest actress race.)
6. Fred Armisen is as prolific as you assumed he might be, with a whopping six submissions for Portlandia, Documentary Now!, Man Seeking Woman, Saturday Night Live, Unbreakable Kimmy Schmidt, and Difficult People.
7. Speaking of SNL, 12 hosts appear on the ballot: Armisen, Larry David, Drake, Ryan Gosling, Chris Hemsworth, Tracy Morgan, Ariana Grande, Brie Larson, Melissa McCarthy, Amy Schumer, and co-hosts Tina Fey and Amy Poehler. Among the names not on the list: Peter Dinklage, Ronda Rousey, Adam Driver, and Donald Trump — maybe Trump's still sour about that Apprentice loss.
8. Is nobody proud of Scream Queens? Despite the fact that they both put in big-name cameos on Scream Queens, Nick Jonas and Ariana Grande have both only submitted for other shows (Jonas for Kingdom and Grande for SNL). Niecy Nash also skipped over Scream Queens, only entering for her supporting turn in Getting On, which earned her a nomination last year.
9.  Get it together, ABC sitcoms! Noah Galvin (The Real O'Neals) submitted as a supporting actor, despite the fact that his character narrates the show. Meanwhile, Jay R. Ferguson and Martha Plimpton, who play his parents, submitted as leads. Similar shenanigans pop up in Fresh Off the Boat's list of acting submissions, which includes Ian Chen for his portrayal of Evan Huang, but not Forrest Wheeler, who plays his older brother Emery. Similarly, The Middle's missing that key ingredient of Neil Flynn, who plays the head of the Heck family, while Modern Family has thrown a whole bunch of names in the mix, with the curious exception of Sarah Hyland, who's missing from this year's ballot.
10. Quinn may be in charge, but she's not lead actress on UnREAL. Constance Zimmer is in the supporting actress race, while Shiri Appleby's being considered as the lead.
11. Despite appearing in fewer episodes this season, and being bumped to a guest star next year, Chris Messina is still entered as a lead actor on The Mindy Project.
12. Actors are looking to bank on big returns: Josh Charles is back from the dead and entered as a guest actor for Will Gardner's dream-state return to The Good Wife. Also looking for some recognition for a surprise return: Christopher Abbott, who's entered as a guest actor for that appearance on Girls, and Kate Mara, who returned to House of Cards as dream-ghost Zoe Barnes.
13. Nobody's a guest at Litchfield. The new Emmys rules stipulate that guest actors must appear in fewer than 50 percent of a series' eligible episodes, which puts the kibosh on Orange Is the New Black's once-great tradition of entering supporting actors into the guest race. Natasha Lyonne and Pablo Schreiber are that series' only guest entries.
14. The members of The People v. O.J. Simpson's dream team are all competing against each other. The show has slotted both Cuba Gooding Jr. (O.J. Simpson) and Courtney B. Vance (Johnnie Cochran) into the lead actor in a mini-series category, with Sterling K. Brown (Chris Darden), Nathan Lane (F. Lee Bailey), David Schwimmer (Robert Kardashian), and John Travolta (Robert Shapiro) all clogging the supporting actor in a limited series race. Sarah Paulson (Marcia Clark) is gunning for lead actress in a limited series, while Connie Britton (Faye Resnick) and Keesha Sharp (Dale Cochran) are both supporting. There'll be no recognition for Kris Jenner, however, as Selma Blair doesn't appear on the ballot.
15. A few stars looking for credit for playing themselves: Dr. Phil (Crazy Ex-Girlfriend), Ewan McGregor (Doll & Em), Moby (Blunt Talk), Liam Neeson (Inside Amy Schumer), Patton Oswalt (Lady Dynamite), Adam West (The Big Bang Theory), Kathie Lee Gifford (Difficult People), Brie Larson (Comedy Bang! Bang!), Sarah Silverman (Lady Dynamite), Mira Sorvino (Lady Dynamite), George Clooney (A Very Murray Christmas), Paul Shaffer (A Very Murray Christmas), Miley Cyrus (A Very Murray Christmas), and Bill Murray (A Very Murray Christmas).
16. Could this be Bradley Cooper's Emmy year? He's submitted in guest acting for drama (Limitless) and comedy (Wet Hot American Summer).
17. AMC's really proud of the writing on Fear the Walking Dead, or maybe just hoping to flood the zone by submitting a grand total of 11 episodes for writing consideration. The Walking Dead submitted a relatively less ambitious seven episodes. Homeland submitted nine.
18. Among the shows submitting a single episode in the writing category: The Leftovers ("International Assassin"), You're the Worst ("LCD Soundsystem"), Black-ish ("Hope"), Crazy Ex-Girlfriend ("Josh Just Happens to Live Here!"), Master of None ("Parents"), and Game of Thrones (the as-yet unaired "Battle of the Bastards").
19. Game of Thrones submitted substantially more episodes in the directing category: Five episodes, one by each director credited in the season. Peter Dinklage, Kit Harington, and Nikolaj Coster-Waldau are competing as supporting actors, while Emilia Clarke, Lena Headey, Sophie Turner, Carice van Houten, and Maisie Williams are competing for supporting actress. Of the seemingly endless list of guest actors on Game of Thrones, however, only Max von Sydow appears on the ballot.
20. Oh, and speaking of Thrones mania, Gay of Thrones is on the ballot as a short-form variety series, alongside a rare virtual-reality competitor, Nashville on the Record VR. The future is here, and it is bedazzled.
21. Also in the short-form realm: History's comedy series The Crossroads of History submitted ten of its 34 actors for contention (no, we haven't heard of this show either, but best of luck sweeping the category).
22. Aziz Ansari's father, Shoukath Ansari, is in the guest actor race for Master of None. Shoukath even has a billboard! (Ansari's mother, Fatima, who also appears in the show, did not enter the race.)
23. Maybe Canadian kids are just more advanced: Degrassi: Next Class tackles everything from #NotAllMen to STDs, but it's competing as a children's program.