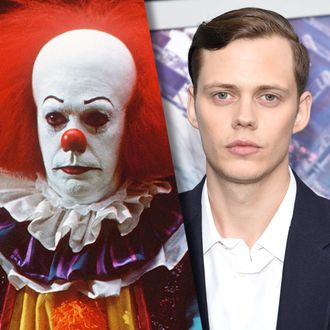 He's got It going on.
Photo: ABC, Getty Images
There you have It: Bill Skarsgård (of the those Skarsgårds) will play It in New Line's adaptation of Stephen King's horror novel It — or rather, he'll play Pennywise the clown, which is just one of the demonic entity's many forms. Tim Curry played Pennywise in the 1990 TV adaptation and we are all still recovering, so good luck to Skarsgård and his marble cheekbones. Andy Muchietti (Mama) will direct It, which will be split into two parts: the first about the main characters battling It as children, the second about them as adults when It returns years later. Cary Fukunaga was previously set to direct, with Will Poulter (We're the Millers) as It, but Fukunaga left the movie after creative differences, the project was pushed, and Poulter was no longer available. You might say Fukunaga and the rest of the team saw It differently.