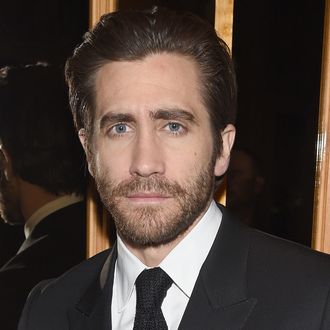 It's you, it's you, it's all for you.
Photo: Dimitrios Kambouris/Getty Images
It only took two decades for a generation to be born with no memory of 1993's Super Mario Bros., but video-game movies are back, baby! According to Variety, Jake Gyllenhaal will star in and produce a film adaptation of Ubisoft's Tom Clancy's the Division. The game, which debuted March 8 for Microsoft Windows, PlayStation 4 and Xbox One, earned $330 million in its first week of release. The Division follows an agent of the Strategic Homeland Division who, following a catastrophic viral pandemic, "is tasked with helping to rebuild the Division's operations in Manhattan, investigating the nature of the outbreak and combating criminal activity in its wake." In 2010, Gyllenhaal starred in the movie adaptation of another game, 2003's Prince of Persia: Sands of Time, a fact he is no doubt silently praying everyone in the world has somehow forgotten by now.