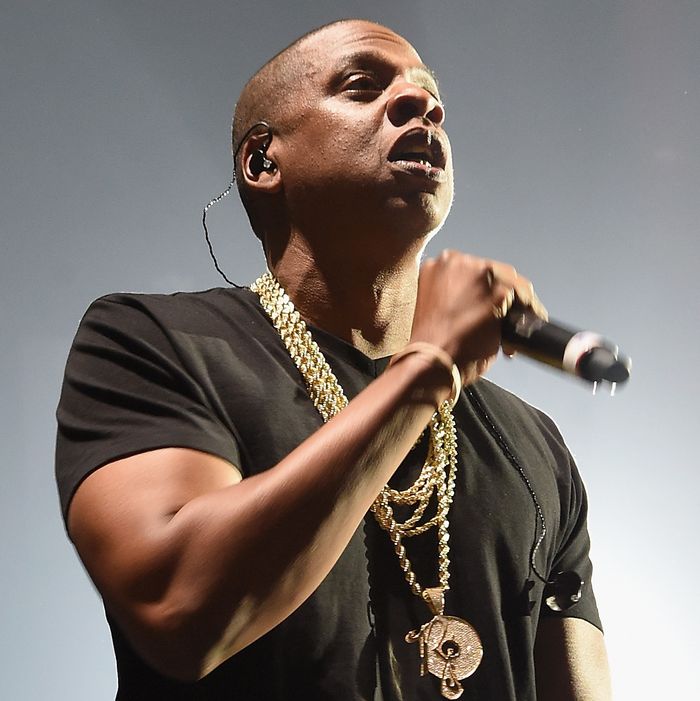 Jay Z
Photo: Jamie McCarthy/Getty Images
One of the ancillary audacities of Beyoncé's scorned-lover's opus Lemonade is that the alleged philanderer in question — her husband, Jay Z — is a hip-hop institution of his own, a "business, man" whose calling card is a knack for god-level boasts. Online, the early shock of Lemonade's HBO premiere stemmed equally from its state-of-the-art songwriting, rich, pastoral visuals, and the nagging question of how on Earth a rapper so calculatedly cool could recover from darts of ire like "Don't Hurt Yourself" and "Sorry." It didn't help matters that Jay had been on a rap sabbatical since doing a few guest verses in the summer of 2014. So his next move would have to be a rebound not just from Lemonade's grand, public smackdown but also from being rusty after a year-and-a-half vacation.
Jay Z's first recording of 2016, a curt two-bar bridge preceding a scene-stealing Kanye West verse on Drake's Views single "Pop Style" that disappeared from the album version for reasons that remain unclear, didn't quite rise to the challenge, but in retrospect, it was just a warning shot. Now, a month later, we're suddenly two newsworthy Jay Z verses into what could charitably be called a comeback. (It's not unusual for a musician to take a year off, but Jay Z made more music during his so-called retirement in the mid-2000s than he has between 2014's On the Run Tour and now.) Is the new music worth the wait?
Last week, the remix to Bronx rap vets Fat Joe and Remy Ma's "All the Way Up" premiered at a Yankees game with a new Jay Z verse at the top. Lemonade comes up straight away as Jay crassly condenses the album's trek from betrayal to reunion into a point of pride in his own celebrity: "You know you made it when the fact your marriage made it is worth millions." Elsewhere he's sipping D'ussé out of Grammys and bragging about Tidal's exclusive deal to stream Prince's discography, bowing out on a razor-sharp dual reference to the Purple One's "Let's Go Crazy" and his own familial strife as he shouts, "We're never gonna let the elevator take us down!" The verse is slick but the energy is wrong; in her verse, Remy upstages everyone by cranking the adrenaline levels … all the way up.
Last night, Jay popped up again on the back end of Pusha T's new single "Drug Dealers Anonymous." The match looks great on paper: Here are two sometime drug dealers that parlayed their street-business acumens into rap careers and bigger, cleaner business ventures. They match wits about escaping the drug game with money and freedom intact. (Push: "Hush money balances all this drugs and violence." Jay: "Thanks to the lawyers I marbled the foyer.") "Drug Dealers Anonymous" is a win because neither artist sounds more engaged than when he is relishing the small details of life outside the law and because, as a celebration of the endgame financial stability that pushes hungry souls to the wrong side of the law in the first place, it paints the fast-money pursuits of the work-whipping trap set as youthful shortsightedness.
The new material finds Jay Z pushing into uncharted territory as a rapper staring down 50 years of age at no loss to his reach within the genre's mainstream. The glory days are gone, but Jay can still work a sly double entendre better than most, and he's up enough on current events to snark Uber users for being impressed by the company's Google-assisted venture into driverless cars, since "our cars been autonomous." If there's any fault, it's that he tries a little too hard to stay current. Jay's "Drug Dealers Anonymous" verse ends on a wry "Damn, Daniel" joke that plays on the FBI's affinity for white vans. It's offbeat and charming in the way that parents engaging with present events can be, and occasionally every bit as corny. All in all, these are acceptable losses. You can't stay young forever.