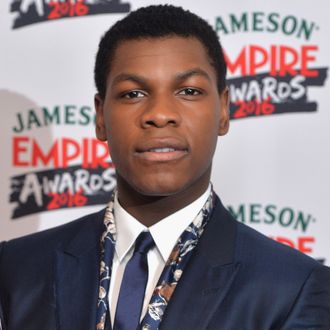 Today, we are also cancelling the apocalypse. You know, just turning it off again.
Photo: Anthony Harvey/Getty Images
The monster-ravaged future sure is full of handsome dudes. John Boyega, best known for playing Star Wars' Finn, has joined the cast of the Pacific Rim sequel, which is back on once again. Steven S. DeKnight is taking the reins from Guillermo Del Toro, who directed the first movie. Boyega will play the son of Idris Elba's character, Stacker Pentecost — dare we wish for a prodigal son called Slacker Pentecost? But don't get too excited: Idris Elba died at the end of the first film, so we might not get that perfect pairing of British badasses together onscreen. Get excited once again: They could bring Elba back with flashbacks!