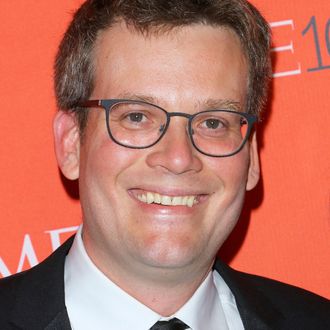 John Green, not feeling blue.
Photo: Jim Spellman/Getty Images
How do you want your tea this morning? Would you prefer it … Green? If so, you're in luck, as author John Green is going in about why there has not been a movie version of his YA book Looking for Alaska, thus completing the unofficially Greenlogy of The Fault in Our Stars and Paper Towns. After a meme of a hypothetical LFA film poster — starring Kaya Scodelario! — began circulating, Green took to Twitter, his fourth-favorite medium, to correct the record. Turns out, there's not going to be a movie anytime soon, since it's currently languishing in development hell. "To my knowledge, Paramount (who own the rights) have no plans to make a film," he writes. "I sold the rights in 2005. Paramount refuses to sell them back to me for any price. You'd have to ask them why."
Still, Green noted, not having a movie version isn't the worst thing in the world, linking to an old Tumblr post where he admitted, "If they made a movie, it might be brilliant, and it would certainly sell a lot of books, but readers would inevitably lose some of the connection they feel to the story." Bit of a Champagne problem, really. Hey, that sounds like the title of a John Green book!