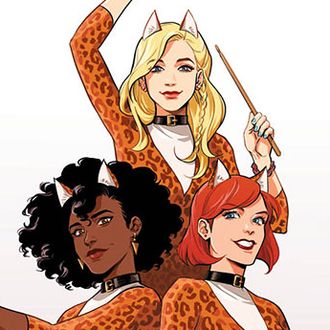 Punk-rock prom queens.
Photo: Audrey Mok/Archie Comics
One of the comics world's biggest surprises in recent years has been the rebranding of Archie Comics. The venerable publisher has taken its well-known characters — Archie, Jughead, Betty, Veronica, and the rest of the Riverdale gang — and given them modern takes from top industry talent. Back in April, the company announced that Adam Hughes would reboot Betty and Veronica, and now from EW comes news that a new Josie and the Pussycats is on the way in September.
Marguerite Bennett and Cameron DeOrdio will pen the series, and Audrey Mok will be on art duties. The series will apparently be a bit of an origin story, featuring "Josie uniting the band to take their big shot at musical stardom, only to contend with the machinations of Alexandra Cabot, the ever-Machiavellian daughter of the Pussycats' manager." Yes, but will they perform "Three Small Words"?