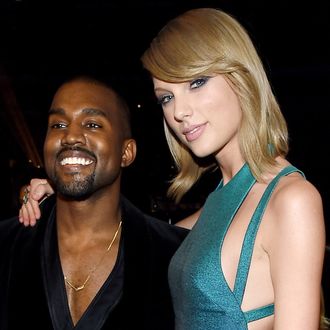 What would we do without Kim?
Photo: Larry Busacca/Getty Images
Kim Kardashian is on the cover of GQ for the first time, and in addition to a lovely anecdote about her soft, underappreciated (according to Kanye) boobs, she has a mug of scalding hot tea to serve Taylor Swift. She's specifically calling out her husband's frenemy for lying about how the controversy surrounding Kanye's "Famous" verse went down. You may remember Kanye rapped, "I feel like me and Taylor might still have sex. Why? I made that bitch famous." He claimed she approved the line, that it was even her idea; Taylor's PR machine denied she would ever do such a thing. Now, Kim Kardashian has a truth bomb:
"She totally approved that. She totally knew that that was coming out. She wanted to all of a sudden act like she didn't. I swear, my husband gets so much shit for things [when] he really was doing proper protocol and even called to get it approved … Totally gave the okay. Rick Rubin was there. So many respected people in the music business heard that [conversation] and knew …  I don't know why she just, you know, flipped all of a sudden … It was funny because [on the call with Kanye, Taylor] said, 'When I get on the Grammy red carpet, all the media is going to think that I'm so against this, and I'll just laugh and say, 'The joke's on you, guys. I was in on it the whole time.' And I'm like, wait, but [in] your Grammy speech, you completely dissed my husband just to play the victim again."
Her proof? Kanye's got the whole thing on video. Per the profile's writer, Caity Weaver:
"But Kim says Taylor's deep emotional wound is nonsense — okay, she says it's a lie — and that there's video proof, because a videographer was actually filming their phone call. Why? Because Kim's husband commissions videographers to film everything when he's recording an album, for posterity (and possibly, one day, a documentary). And this is where it gets sticky."
Oh, does it. Because in her breathtaking moment of going rogue, Kim reveals that Taylor lawyered up and demanded that Kanye destroy the evidence after learning of the video's existence from possibly a mole on Kanye's team:
"And then they sent an attorney's letter like, 'Don't you dare do anything with that footage,' and asking us to destroy it." She pauses. "When you shoot something, you don't stop every two seconds and be like, 'Oh wait, we're shooting this for my documentary.' You just film everything, and whatever makes the edit, then you see, then you send out releases. It's like what we do for our show."
According to Weaver, Kanye's reps confirm the footage is real and that they were contacted by Swift's lawyers. Taylor's rep, however, has a more long-winded response. Here's the gist:
"Kim Kardashian's claim that Taylor and her team were aware of being recorded is not true, and Taylor cannot understand why Kanye West, and now Kim Kardashian, will not just leave her alone."
Burns all around.