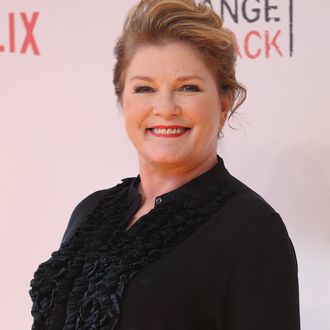 Photo: Sean Gallup/Getty Images
Actress Kate Mulgrew, who plays Galina "Red" Reznikov on Orange Is the New Black, appeared on ITV to promote her new memoir, Born With Teeth. It turns out that title is not so much a metaphor for the author being tough as it is an actual fact about her medical history.
"I was born with a set of perfect teeth," Mulgrew revealed. Think this sounds like some Ripley's Believe It or Not nonsense? Us too. But it's a real thing! Her perfect teeth were then removed because they posed a choking hazard. And as if that weren't enough for one child, Mulgrew casually added that after having her teeth removed, her parents also built her a cage to protect her, because she "had no sense of pain until [she] was 4 years old." Not to make light of serious medical conditions, but possessing an extra set of teeth (like a shark) and an inability to feel pain would certainly come in handy behind bars at Litchfield.