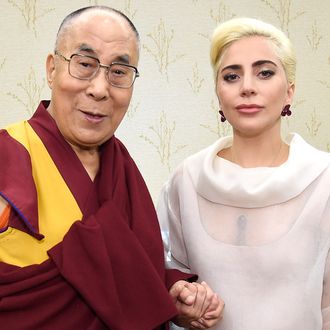 Lady Gaga with the Dalai Lama.
Photo: Kevin Mazur/Getty Images
Rah-rah, ah-ah-ah! Ro-mah, ro-mah-mah! Gaga, ooh-la-la — you're banned from China. After The Hollywood Reporter told tale of Chinese fans speculating that Lady Gaga was to be blacklisted from performing in China in the aftermath of her Facebook Live interview with the Dalai Lama on Sunday, The Guardian is now reporting that those fears have been realized. Per The Guardian, Gaga has reportedly been added to a "list of hostile foreign forces banned by China's Communist party." Additionally, the propaganda wing of the party is said to have banned Gaga's catalogue from the mainland, according to Apple Daily, a pro-democracy Hong Kong–based publication. There were also allegedly demands given to party-controlled news outlets to condemn the meeting.
Though the interview between Gaga and the Dalai Lama was ostensibly about "the power of kindness" (and yoga), Chinese foreign ministry spokesperson Hong Lei said Monday that the Dalai Lama's international appearances are a smoke screen "to promote his proposal for Tibetan independence." The Chinese internet firewall often blocks the Dalai Lama's name on social media, but THR suggests that criticism of Gaga's meeting with the Tibetan leader was allowed to go through, including numerous viral Weibo posts that urged a boycott of the musician. (Gaga's Instagram photo of the meeting received 22,000 comments, many from angry Chinese fans.) Though Lei did not comment on rumors of Gaga's blacklisting, Selena Gomez, Maroon 5, and Bon Jovi have all been rumored to have been banned from China for their support of the Dalai Lama. Gaga herself has survived bans in China over her "vulgarity," because you can't keep a good Gaga down.