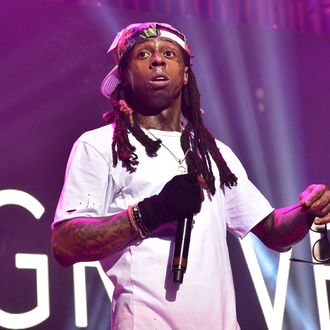 Photo: Prince Williams/Getty Images
Lil Wayne, a self-described epileptic, reportedly suffered two seizures this afternoon while aboard his private jet. According to TMZ, the rapper was on his way to California from Milwaukee when his flight made an emergency landing in Omaha, Nebraska. He is said to have dismissed medical concerns and refused treatment at that time. The flight took off only to then make a second unplanned grounding after another seizure. However, this time paramedics were allowed to treat the star, and he is now recovering in a Nebraska hospital. This was not the first occasion of Lil Wayne's medical condition causing a flight disruption. In 2012, his private jet made emergency landings two days in a row, and he was reportedly hospitalized for the problem in 2013.
Update: According to Billboard, a rep says Lil Wayne's seizures were "minor." The statement added, "Under the guidance of his own doctors, he is now in stable condition and good spirits." He should be steady mobbin' again soon.