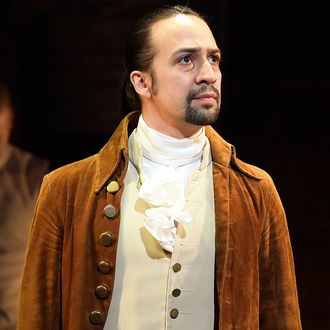 Bastard, orphan, etc.
Photo: Theo Wargo/Getty Images
The rumors were true: Lin-Manuel Miranda really is leaving Hamilton next month. The recent Tony winner's last performance in the role will be July 9; after that, he'll hand the part of the titular Founding Father to current understudy Javier Muñoz. Miranda's not the only original cast member to depart this summer — Tony nominee Phillippa Soo, who plays Hamilton's wife Elizabeth, is also leaving in July, as is Tony winner and Aaron Burr, sir, Leslie Odom Jr. With much of the original cast moving on, Hamilton will be filmed before the gang splits up for good. Miranda told Twitter that the footage will probably be kept hidden for a while, but will be released eventually. He has also said that he'll be back, periodically. As he told reporters at the Tonys, "I intend to drop in on this thing." In 20 years, he joked, "You're going to be like, 'When will you stop playing it?'"

Update: You can't keep a good king down. Jonathan Groff, otherwise known as King George III the Second, will step back into the show for the two filmed performances. Miranda announced the news during a Periscope chat, saying: "I'm happy to report that Jonathan Groff — Groffsauce, you love him, I love him — moved around his TV production schedule, and we're going to get him." The Tony nominee had permanently left the show in April to film David Fincher's Netflix drama Mindhunter, after taking a hiatus last October to film the Looking movie. The arrangement has the current King George, Rory O'Malley, sitting the filmed shows out, because it wouldn't be real royalty without a succession switcheroo.