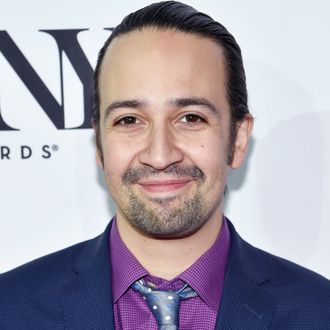 Such a tease.
Photo: Dimitrios Kambouris/Getty Images
So there's good news and there's bad news. The best news is that Lin-Manuel Miranda is on the cover of Rolling Stone, and inside, he's granted the magazine a 5,000-word interview. The bad news? He got asked about turning Hamilton into a movie again, and dammit, it looks like it'll take at least two decades to be in the room where that happens. "Someday. Probably not for, like, 20 years," he says, crushing our hearts. To be clear, it's not because Miranda enjoys torturing the masses who'll spend those next 20 years never seeing the perpetually sold-out show. It's just that, like any Broadway phenomenon ahead of its time, no one knows how to adapt it. "There are some really good [adaptations], but I will tell you, they're all 20 years after the fact," he explains. "Like, I thought Les Miz was a really strong adaptation. I thought Chicago was one of the best adaptations. Cabaret, which really took that show, a great show, and made it into a film that could never have existed in the theater. Like, you couldn't do that film onstage. So someone's going to have to have the brilliant idea of how to make this into a film on its own terms." Ugh, fine.
The good news? The Hamilton mixtape will take a lot less than 20 years to make. In fact, it's out this fall. And it features a top-secret "rap legend" whose mere presence in the studio reduced Miranda to the Michael Jordan crying meme. Throughout this interview Miranda name-drops Jay Z, Eminem, Busta Rhymes, Andre 3000, LL Cool J, and Nas (to whom Miranda impulsively gifted his copy of Chernow's Hamilton biography, awww). Busta's already confirmed for the tape, so for now, let's just assume said "rap legend" is Biggie's hologram. It's what Hamilton would've wanted! A few deets he is willing to spill about the mixtape: A couple rappers might be interpolating the hook from "Right Hand Man," and someone's definitely doing a version of "Who Lives, Who Dies, Who Tells Your Story" that's not about Eliza.
And now for the dreaded news: The Hamilton you've been obsessing over may not be that way for much longer. As Miranda explains it, he and the cast signed on to do the musical for a year, and in July those contracts expire. All the actors are currently in contract negotiations, but even Miranda says he's unsure who will return. ("I don't know who's staying and who's going. Who tells our story.") Sadly, that goes for Miranda, too: "I don't know that I want to break the news here. But I can tell you that with In the Heights, I did a year. I did a year and got out. And that show was as successful and joyous as anything I've ever done. But I still needed time to write, and so I did a year." If only there were some duel we could challenge him to that could settle this.