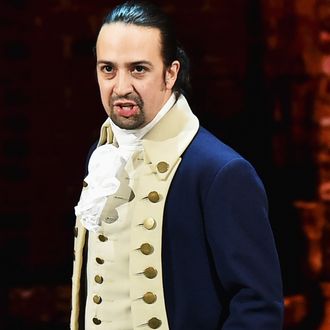 Photo: Theo Wargo/Getty Images
After this year's #OscarsSoWhite controversy, in which no actors of color were Oscar-nominated for their performances, it was thrilling to see a significantly more inclusive Tony Awards, in which 14 nominees were people of color. Broadway's favorite son, Lin-Manuel Miranda (whose notably diverse Hamilton picked up 16 nominations, and took home 11 awards), was wowed by this year's results, but isn't so sure we're due for a repeat anytime soon.
"I think our incredibly, amazingly diverse Tonys season that just ended was a fluke," Miranda said, sitting down this week with the president of Rockefeller Foundation, Judith Rodin. "We lucked into one of the most extraordinarily diverse seasons we've ever seen in the history of Broadway, from Allegiance to Shuffle Along to the revival of The Color Purple to Hamilton. That was a very nice contrast that happened this year. That being said, next year could be a very different year, depending on what comes in."
Still, Miranda is galvanized by the effect that his landmark musical continues to have on the entertainment industry at large.
"The exciting lesson that I hope people are taking away from Hamilton is that you don't need a white guy at the center of things to make it relatable," he said. "Hamilton is a story very deliberately told to reflect what America looks like right now. We have every color represented — white, black, brown, and everything in between, and it's making a killing. And that's what makes sense to Hollywood. They go, 'Oh, they're making a killing.' And so that hopefully will change minds. And I've actually heard from studio executives and people in charge in very high places saying Hamilton has changed their view of what they can put on schedule, and that makes me very happy."