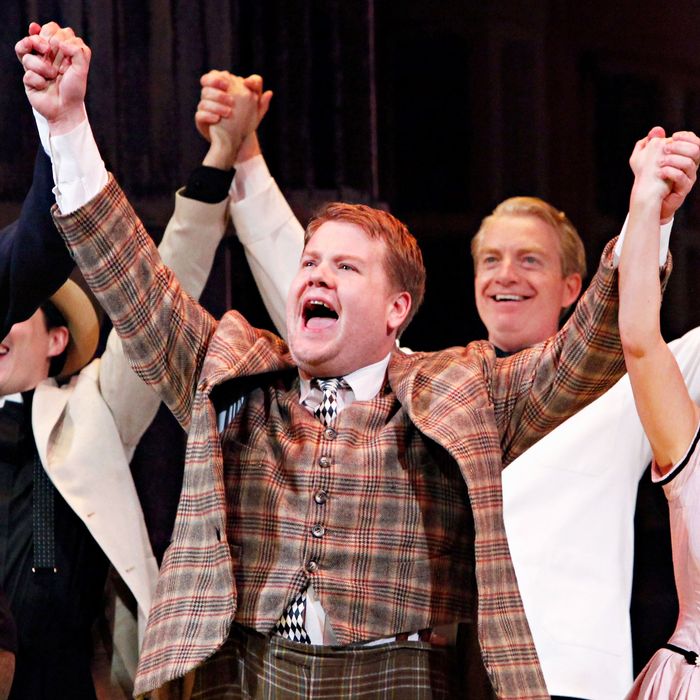 Actors James Corden and Jemima Rooper perform in the curtain call at the One Man, Two Guvnors Broadway opening night at the Music Box Theatre on April 18, 2012, in New York City.
Photo: Cindy Ord/Getty Images
During his Broadway edition of Carpool Karaoke, James Corden asked his car full of theater luminaries for "advice" on how to win over the audience at the Tonys, which he'll host this Sunday.
"You've all been to the Tony Awards. We have record-breaking winners in the car right here," Corden said, clearly referring to the legendary Audra McDonald. "I've never been nominated, but congratulations," Modern Family's Jesse Tyler Ferguson, currently performing in Fully Committed, quipped.
The same cannot be said for Corden. Though he put on a naive act while driving the car, Corden's been to the Tony Awards before — and once even came home with a statue.
The Late Late Show has made its host a viral star, but theater — especially in New York — is integral to his backstory. When he was just a teenager, Corden performed on the West End as an ensemble member in Martin Guerre, a musical from Les Misérables writers Alain Boublil and Claude-Michel Schönberg. (One of the stars of that production? Iain Glen, a.k.a. Game of Thrones' Jorah Mormont.) Corden didn't much like the experience, and, by his account, was sort of a jerk about it.
"Whatever you think of my ego now, my ego at 17 was out of control," he told the London Evening Standard in 2015. "I imagined I would be in the chorus and someone would pick me out and give me a role. I was actually at the back of the stage, so far back I could touch the wall. I didn't even have a mic in the second act. I realised then I would have to work in TV."
It would have been unwise for Corden to dismiss theater completely, and fortunately he didn't. He was cast as one of the titular "boys" in Alan Bennett's The History Boys, a play about a group of young men trying to get into Oxford and Cambridge. The History Boys premiered, in 2004, at the National Theatre in London, and eventually made its way across the pond, leading to Corden's Broadway debut, in 2006. He played Timms, the comic relief prone to getting whacked on the head.
It wasn't the most consequential part, though he did make an impression. (The actor in that show who seemed most destined for stardom was Dominic Cooper, now in AMC's Preacher on AMC, and he and Corden are still friends. If you want to be delighted, watch them banter on The Late Late Show about their time as roommates.) The History Boys went on to win the Tony for Best Play, and a movie based on the production, also featuring Corden, was released in 2006.
The following year Corden did a run in a British production of Brecht's A Respectable Wedding. By the time he reunited in 2011 with his History Boys director Nicholas Hytner for One Man, Two Guvnors, his celebrity had grown in Britain thanks to the sitcom Gavin & Stacey and various hosting stints. This time onstage Corden would not be lost in an ensemble: Hytner recruited writer Richard Bean to adapt the classic Italian comedy The Servant of Two Masters with the comedian in mind.
What Bean turned in was a riotous affair set in the swinging '60s, complete with musical interludes and frequent fourth-wall-breaking. Corden quite literally threw himself into the part of Francis Henshall, a dope who starts working for two different men. (Actually, one man and one woman dressed as a man.) Each performance required the actor to careen across the stage:
Following runs at both the National Theatre and in the West End, the show moved to Broadway in 2012, with Corden getting rave reviews. New York's Scott Brown wrote that Corden was, "a born showman seemingly made of the same hyperkinetic polymers that go into Superballs, avidly contorts himself to fit every twist and turn."
Still, no one expected him to win a Tony, since the 2012 Best Actor in a Play category was stacked. Corden was up against James Earl Jones, Frank Langella, John Lithgow, and Philip Seymour Hoffman. Hoffman was nominated for his interpretation of Death of a Salesman's Willy Loman, and seemed the likely winner. One of the greatest living actors in a Mike Nichols revival of one of the greatest American plays? It was practically a lock. But Tony voters apparently preferred the belly laughs Corden provided. In his emotional acceptance speech, Corden called Hoffman "my favorite actor in the world."
Then Hollywood came calling. Corden was cast as the Baker in Rob Marshall's Into the Woods, and subsequently tapped for The Late Late Show. Before the CBS deal went down Corden was attached to a Broadway revival of Stephen Sondheim's A Funny Thing Happened on the Way to the Forum, which ended up being postponed after he landed the talkshow gig. While that was disappointing, Corden's obvious love of show tunes and the late-night platform means we get things like Broadway Carpool Karaoke and Crosswalk Musicals starring Seth Rogen and Rose Byrne — and that, if anything, he should be giving, not soliciting, advice on how to get Broadway crowds going.