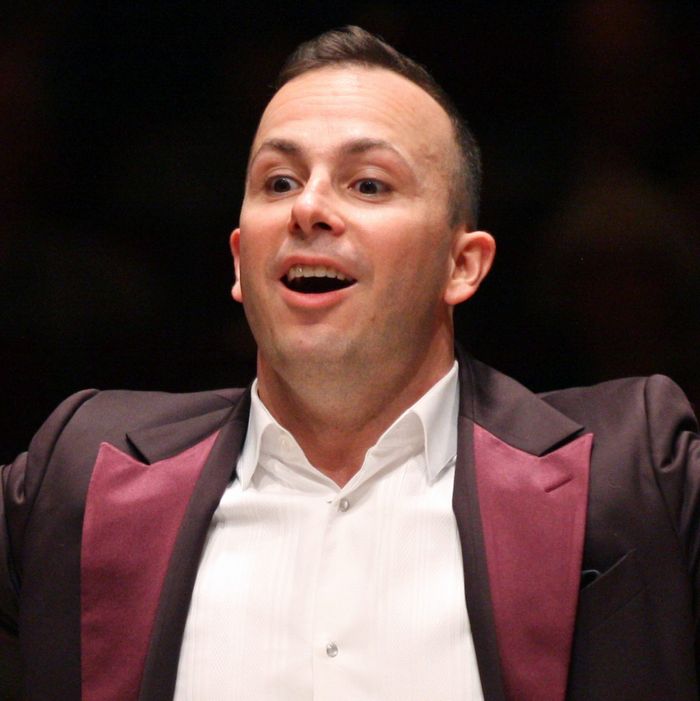 Photo: Hiroyuki Ito/Getty Images
Yannick Nézet-Séguin, the 41-year-old Canadian conductor of brawny build and muscular interpretations, will take over as music director of the Metropolitan Opera — four years from now. (The classical-music world moves at a geological pace, and conductors' calendars fill up years in advance with immovable obligations.) When he does start full time, in 2020, he'll be shuttling between the Met and the Philadelphia Orchestra, where his position as music director runs for at least another decade. Acela passengers will no doubt get used to seeing a short, broad-shouldered man with explosive body language studying scores in the quiet car.
The interregnum could be a delicate time for an opera company that has weathered years of James Levine's unpredictable health, as well as drooping attendance and a challenging financial landscape. Levine retired last month, after 40 years on the job, and the departure of such a Mount Rushmore figure leaves behind a treacherous vacuum. The Met could use a strong artistic hand and a magnetic public figure — right now. Instead, Nézet-Séguin will function as an offstage potentate, planning and consulting even though he will conduct only a single opera next season, a revival of Wagner's Der fliegende Holländer.
In the long run, though, he could be exactly the tonic that the Metropolitan Opera needs: young enough to enjoy a long, stabilizing tenure; experienced enough to reassure insecure singers that they are in good hands; dynamic enough to blast fresh energy into familiar scores. He has been a regular presence at the Met since 2009, when he led a memorably intense Carmen, and last season's opening-night Otello quivered with tenderness and fury. He brings a powerful musical personality to his new job, a horror of dullness or vulgarity and an unfakeable love of nuance. The appointment does leave a couple of open questions. The first is whether his desire to wring every drop of drama out of a score will come to seem mannered over time. The second is whether he will complement his unquestionable podium talents with a distinct artistic vision and an agenda for the company's future.