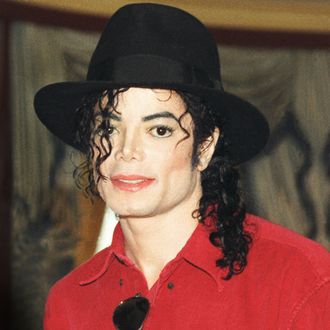 Photo: Phil Dent/Getty Images
Update June 22, 12:30 p.m.: In a statement given to Vanity Fair, the Santa Barbara County Sheriff's Department questioned the veracity of the police reports published by Radar:
Some of the documents appear to be copies of reports that were authored by Sheriff's Office personnel as well as evidentiary photographs taken by Sheriff's Office personnel interspersed with content that appears to be obtained off the Internet or through unknown sources. The Sheriff's Office did not release any of the documents and/or photographs to the media. The Sheriff's Office released all of its reports and the photographs as part of the required discovery process to the prosecution and the defense.
A representative for Michael Jackson's estate also told Vanity Fair that Radar's reports are "false."
Our original post appears below.
Police reports from the 2003 investigation of Michael Jackson for child molestation have allegedly surfaced, and they paint a disturbing portrait of the late pop icon. According to the reports, which were obtained by Radar Online, Jackson's Neverland Ranch in Santa Barbara, California, was reportedly found to have been filled with child pornography as well as violent images of animal torture and S&M practices. The reports also make mention of materials in which there was "morphing" of children's faces onto adult bodies. The reports come from a police raid of the ranch in November of 2003. In the aftermath, Jackson was charged with seven counts of child molestation and two counts of giving an intoxicant to a minor. According to Radar, the reports include mention of materials "of children bleeding, in pain and tormented." Ron Zonen, a former Santa Barbara DA who worked to prosecute Jackson, told Radar: "A lot of this stuff was used to desensitize the children." Despite the alleged stack of evidence against him, Jackson was acquitted at trial in 2005. He died four years later, in 2009.