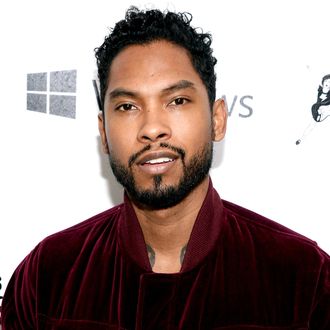 Just when you thought it couldnt get hotter.
Photo: Matt Winkelmeyer/Getty Images
When you're Miguel, there's no need to beat around the bush or use Netflix as foreplay. He's more direct about his intentions. "Come through and chill, I just wanna fuck all night," Miguel unsubtly sings on his new Salaam Remi–produced scorcher, aptly titled "Come Through and Chill." Ah, chivalry. The only sexual assistance Miguel needs, apparently, is a vape pen, weed, and the summer heat to set the mood for his latest lyrical kama sutra. It's Miguel's first new song since last year's Wildheart, but certainly not the first time he's had to educate the world on proper bedroom etiquette. Because there's no time like a heat wave for one of Miguel's, um, waves. Enjoy the ride!