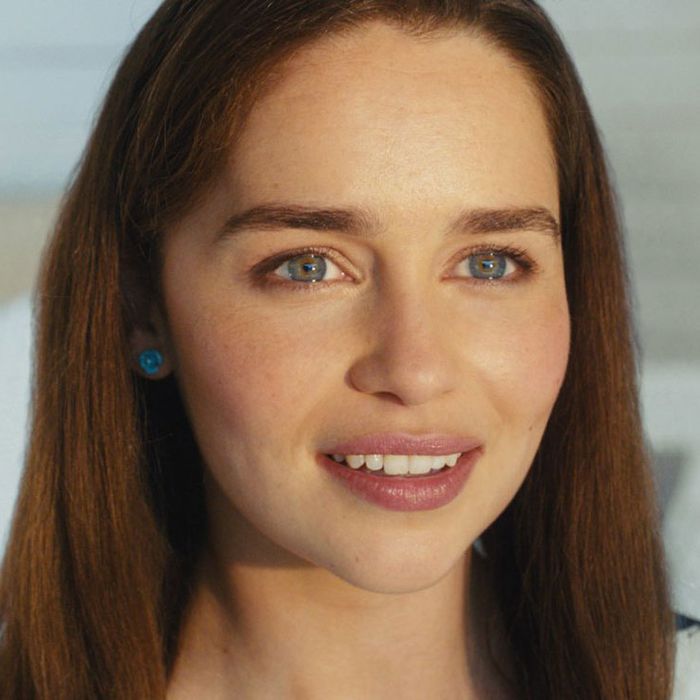 The scene-stealers of the tepid weeper Me Before You are Emilia Clarke's eyebrows, closely followed by her large top row of teeth. Those eyebrows are a wonder — thick brown caterpillars in a synchronized caterpillar-rumba competition. They lift, they leap, they curl up, they curl down, they waggle impishly. At times they soar as high as her hairline, turning her forehead into a series of tight grooves reminiscent of pale corduroy. Should her top choppers come out while her eyebrows are vaulting, her visage becomes a Stan Laurel mask — a smile on the brink of tears, because a) this is a tragic love story and b) it must be painful doing calisthenics with your face.
It goes without saying that Clarke is attempting to differentiate her character — also named Clark, though without an "e" — from Game of Thrones's Daenerys Targaryen a.k.a. Khaleesi a.k.a. Mother of Dragons a.k.a. Woman Who Walks Naked Out of Fire. I imagine she'll want to incinerate a roomful of critics when she reads her reviews, but she should turn the flames on her director, Thea Sharrock, who could have easily dialed Clarke down a notch or ten. Her character — the inexperienced working-class caregiver for a 30-ish quadriplegic so rich that his parents have an ancient castle beside the castle in which they live — is meant to be sweetly clumsy, with the fashion instincts of a 6-year-old who has been conked on the head (each new assemblage of fuzzy tops, tiny polka-dot skirts, and bumblebee tights is a fright), but Clarke is so insistent on becoming the new adorkable life force that she's excruciating to watch. The movie makes you admire all the more her restrained power in Game of Thrones, in which her eyebrows are largely stationary.
Me Before You features a slew of other actors better known for other work: Finnick from The Hunger Games series; Tywin Lannister* (who never shared the screen with Daenerys); Bates from Downton Abbey; and the genuinely adorable Clara, companion of two Dr. Whos. Finnick — Sam Claflin — plays Will Traynor, an avid sportsman and leveraged-buyout king who is hit by a motorcycle in the prologue and now simmers balefully at anyone in his orbit. His parents — Janet McTeer and Charles Dance — are helpless. They hire Clark in desperation and, after several seasons change, she brings sunshine and whimsy to his benighted life while he expands her world with subtitled movies and classical music. "We found love right where we are," sings the ever-redundant Ed Sheeran in one of the film's many montages. Fans of the best-selling novel by Jojo Moyes will be heartened to hear that she wrote the screenplay, too, and that she has preserved all the lines that — when read aloud — will provide much mirth at your next dinner party.
Sensibly deciding he can't compete with Clarke, Claflin underplays tastefully and doesn't come off too badly — though I always thought he looked like a studly guy sitting in a chair rather than someone paralyzed. When Will decides that despite the showers of pixie dust from his working-class Tinkerbell he can no longer abide his life, he makes plans to go to Switzerland to end it all. Will Will be swayed by Clarke's Clark? Apparently quadriplegics are livid over Will's earnest case for assisted suicide. Their consolation should be that Me Before You has as much relation to the real world as Emilia Clarke's eyebrows.
* This review originally misidentified Tywin Lannister's first name. We regret the error.