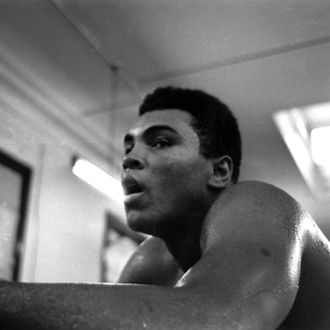 Ali.
Photo: R. McPhedran/This content is subject to copyright.
Muhammad Ali, the charismatic three-time world heavyweight champion and one of the most prolific figures in the history of boxing, has died at the age of 74. Ali passed away in Phoenix on Friday, where he was hospitalized earlier this week for respiratory problems that were further complicated by Parkinson's disease, his family spokesperson confirmed. Self-proclaimed "The Greatest" with few challenging that title, Ali's exemplary boxing career spanned three decades with a final record of 56–5, 37 of those victories by knockout. Retiring from the sport in the early 1980s, Ali — who famously changed his name after converting to Islam and refused to serve in the Vietnam War — proceeded to dedicate his life to various humanitarian causes.
This story is developing. For more updates, follow Daily Intelligencer's coverage here.