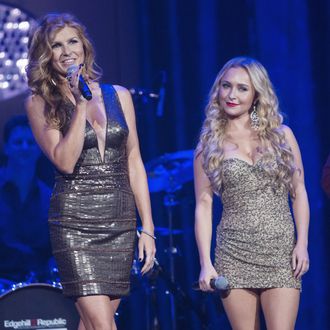 Connie Britton, Hayden Panettiere.
Photo: Chris Hollo/ABC
Nashville has found a way to land that plane. According to a report from the Tennessean, Lionsgate TV, which produced the recently canceled country soap, has worked out a deal with CMT for a fifth season of the show, which will also stream on Hulu. Marshall Herskovitz and Ed Zwick (My So-Called Life, Thirtysomething) will take the helm as showrunners. Negotiations with CMT started earlier this week, and they seem to have come to fruition late yesterday thanks to a generous incentive package put together by the city of Nashville, the state of Tennessee, and local hospitality groups — what's more soap operatic than that?
Update: EW has confirmed that CMT has picked up Nashville for a fifth season. The network has ordered 22 episodes, a rarity for a cable series. Though The Tennessean reported that the entire cast is expected to return for the next season, EW notes that cast deals have not yet been struck. Crucially, Lionsgate TV's Kevin Beggs has said that Connie Britton and Hayden Panettiere are "essential" to the series, but the extent of their involvement is still up in the air. Hey, just like Juliette's plane!