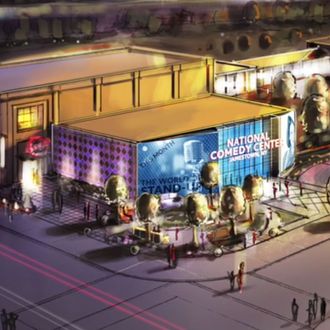 The National Comedy Museum.
When the National Comedy Center opens in Jamestown, N.Y., next year, its star attraction might be a hologram of George Carlin performing stand-up. Or it might not be — comedy is subjective, and this fact appears to be, too. In an interview with The Hollywood Reporter, curator Kliph Nesteroff says that the Carlin hologram is definitely happening, calling it "the main gimmick" to bring people through the door. "They're building this fake comedy club in one corner and George will be onstage, performing like old times," Nesteroff says. "The Carlin estate is partly sponsoring the museum, and the museum has just acquired Carlin's archives — he's the credibility here."
But Carlin's daughter Kelly disputes this, telling The Comic's Comic that, while she did donate her father's archives to the museum, she absolutely did not sign off on any sort of hologram business. "It's just too creepy," Kelly Carlin said of the hologram news, adding, "The story is wrong." The museum did sign a deal last year with Hologram USA, a company that produces holograms of comedians like Bernie Mac, Redd Foxx, and Andy Kaufman. Will this museum let us wrestle a hologram?
Update: In a statement, a representative for the comedy museum says that Nesteroff mistakenly conflated two separate exhibits in the museum: "The National Comedy Center has no plans for a George Carlin hologram at the forthcoming museum."