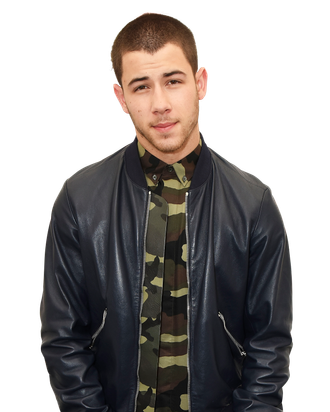 Three years ago, tween heartthrob turned thirst trap Nick Jonas filmed Careful What You Wish For, an erotic thriller in which he takes his shirt off a lot, loses his virginity to his married neighbor (Isabel Lucas), unwisely continues the affair, oh, and (spoiler!) gets duped into killing her husband (Dermot Mulroney). It's Camp Rock if it aired on Lifetime and were trying to be a PG-13 version of Basic Instinct.
No one saw the movie because it got stuck in distribution limbo, meaning the world missed out on what should've been Jonas's sexual coming-out party. In the time since, Jonas, now 23, has matured from curly-haired JoBro to posing in his Calvin Kleins à la Mark Wahlberg. Today the film finally comes to theaters and VOD, on the same day Jonas's moody third solo album, Last Year Was Complicated, gets its release. Vulture recently chatted with Nick about filming sex scenes, why he's always naked, his MMA show Kingdom, and his complicated early-20s.
Is it weird looking back at yourself in Careful? You've had a well-publicized image overhaul since you made the movie.
It's a little strange, but also nice to have these moments of my life sort of documented in some sense. It was a great project to build from and grow with, so it's exciting that it's coming out now in the midst of a crazy time.

Was this your first sex scene?
Yeah. I've since done quite a few, but that was the icebreaker. [Laughs.]

How'd it go? Jennifer Lawrence said she had to get drunk to get through her first sex scene.
I've been acting in stuff since I was very young so I kind of have this mentality that it's just your job, you know? It's what you have to do to tell the story. Even though there are moments where it might get a little uncomfortable, it's all part of the storytelling. There's less of you in it. I'd probably say it didn't matter to me that much. I wasn't freaked out by it. You just have to do it.

How old were you at the time?
Nineteen or 20, I think.

Since then you've become very open about your sexuality — we've seen quite a lot of your body over the last two years. Why are you so much more prone to going shirtless and putting your body out there now than you were, say, even five years ago?

As I've gotten older, it's been nice to just explore and be creative. With Kingdom, obviously fighters fight shirtless, so that's why that's happening. In addition to that, it's playing around with creative minds who have great ideas, and part of that is tapping into an older side and a sexier vibe. It's just about going on a journey and having fun while creating something.

You're semi-nude in this movie. There are glimpses of your butt, at least. And I hear you go nude for the James Franco frat-hazing movie Goat, when a lot of the other male actors in the movie decided against it. Is it now just always a yes to nudity for you?
To a certain degree, though I think there are things that'll probably make me a little uncomfortable. I'd have to see how important it was to the story to go fully nude or not. But I think if it's the right thing and it feels important that it be in there, then I'll do what I gotta do.

In Kingdom you play a fighter who's going through a dark period of failure. You've pretty much been successful since you were 7. How did you even begin to relate?
I've certainly had my moments of disappointment, and I've been really grateful for what's been an amazing couple of years. But before that, I doubted myself a little bit. I had a moment where I was curious if my career had come to an end, if that was it. Thankfully, that was not the case. But I do relate to my character a bit more than you'd think. A career is built on ups and downs, so it's all about trying to gauge those and take what you can from each experience.
Your character on Scream Queens had a pretty definitive end. Even so, any chance you could return for season two?

There's always a possibility with Ryan Murphy. You have to expect the unexpected. I think I did die, but I'm not even sure. I might still be around. I haven't spoken to him in a little while, but I'd love to catch up with him. If there's an opportunity to come back, I'd be down.

In both Kingdom and Scream Queens you played gay characters, and you were recently on the cover of Out. The magazine called you a gay icon. Do you feel like one?
Not really. I would never call myself that. If someone wants to say that about me, that's very kind. But I'm grateful that I have fans from all different walks of life. It's a great thing, but I don't really think about it too much. I play these gay characters and Nate [from Kingdom], specifically, his journey is really interesting and one that's a challenging story to tell. It's really heartbreaking. So it's great as an actor to get to share that and go on a journey with the audience.

Did you always have such a large gay fandom, or have you sort of purposely cultivated one?
It's definitely grown quite a bit over the last couple of years. It's been pretty amazing to see how far the whole fan base has come. I'm thankful that the gay and LGBT audience has been so amazing.

The title of the new album is … unsubtle. What, exactly, made last year so complicated for you?
Between a breakup that I went through and just transitioning from being in a band to being a solo artist. It took a lot out of me and challenged me in a lot of ways. I just tried to put that all in the music and lay it out in the most honest way possible without any fear. It was really rewarding to go to that place and tell the stories in that way, but frightening as well. Getting that vulnerable is a crazy thing.

Are you enjoying being a solo artist or would you ever consider going back to a band, like Joe did with DNCE?
I'm really enjoying being a solo artist and seeing the reaction to what's happened in the last couple of years. I'm proud of Joe and excited for this chapter in his life, but I prefer to be my own artist in a sense and just do my own thing.

You've said this album has some of the most personal songs you've ever written. How personal are we talking?

Look out for songs like "Chainsaw," "Champagne Problems," "Comfortable," which is the last song on the album, and "Good Girls," a collaboration with Big Sean. I'm really anxious for people to hear those.
This interview has been condensed and edited.