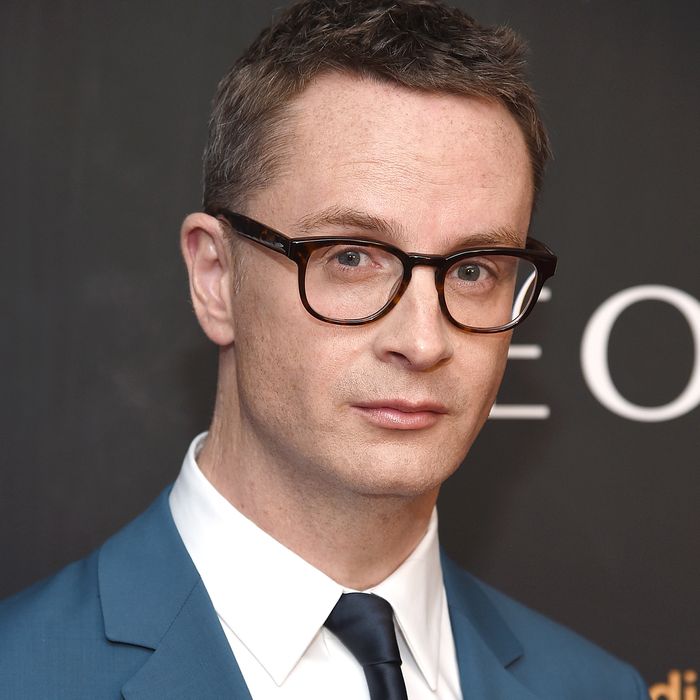 NEW YORK, NY - JUNE 22: Director, Nicolas Winding Refn attends "The Neon Demon" New York Premiere at Metrograph on June 22, 2016 in New York City. (Photo by Dimitrios Kambouris/Getty Images)
Photo: Dimitrios Kambouris/Getty Images
Back in 2011, a little movie called Drive changed the way we felt about a few things:
a) Ryan Gosling
b) Elevators
c) White jackets with scorpions on the back
It married a noir framework to the world of a getaway driver in Los Angeles, featuring the likes of Carey Mulligan, Bryan Cranston, Albert Brooks, Christina Hendricks, and Oscar Isaac — a cast that, in retrospect, seems almost curiously good for a film put out by the mid-level distributor FilmDistrict. The movie was a minor hit, grossing $35 million domestically and another $41 million overseas on a slim $15 million budget, while also earning a 92 percent score on Rotten Tomatoes — even if, in an almost too-perfect commentary on the current cultural climate, it suffered a C- CinemaScore, cratered by audiences expecting a Fast and the Furious–esque thrill ride rather than a moody drama in which the violence doesn't start until halfway in, then ratchets up to hysterical intensity.
Drive also served as a calling card, changing the way we think about its director, Nicolas Winding Refn, a walking Danish id who had, up until then, made just two English-language movies: Fear X, a box-office disaster that sunk his production company, and Bronson, a phantasmagoric, unconventional biopic of the British prisoner Charlie Bronson starring a mustachioed, ecstatic Tom Hardy. With its slick soundtrack, commercial viability, and sure-handed synthesis of action and elegance, Drive announced the arrival of a visionary.
Refn followed Drive with 2013's Only God Forgives, which also starred Gosling and premiered at Cannes. Only God Forgives was the directing equivalent of being given a fast, beautiful car — maybe the one from Drive? — and then steering it off the edge of the highest possible cliff. Having attained the rare kind of prestige and visibility that comes from turning an indie into a mainstream hit, Refn used that momentum to make a vicious fever-dream of a film, a color-drenched odyssey into the Bangkok underground that gave its movie-star lead only 17 lines (and eventually bloodied him to the point of anonymity); contained scenes of a God-like detective singing Thai karaoke; and featured grotesque, fetishistic violence. Our David Edelstein called it "just about the worst fucking thing I've ever seen"; meanwhile, I think it might be the most underrated movie of the decade.
Either way, it was divisive, and it squandered the goodwill that Refn had earned from his breakout hit. It was also a curious, unusual decision. In the current iteration of Hollywood, the next step after making a successful low- or mid-budget film is to make the jump to the nearest blockbuster, whether it's a Marvel movie, a Star Wars spinoff, or a franchise reboot. And while there's nothing wrong with that, it's also worth considering whether Refn's decision — to go even deeper into the idiosyncratic tangles of his psyche; to refine his aesthetic and explore how far he could push it; to make the movies he, and no one else, wanted to make — is the more artistically bold and laudable decision, even if you hate him for it.
To understand why Refn took this route, it's worth revisiting the earlier part of his career. While Bronson cemented the critical respect Refn had earned with his prior work (particularly the Pusher trilogy), it only made $100,000 domestically; his next film, Valhalla Rising, a savage and bizarre Viking epic that re-teamed Refn with his frequent star Mads Mikkelsen, was another financial disaster, outdoing even Bronson: It made just $30,000 in the States, a number that makes the $700,000 of Only God Forgives — plus another $9.5 mil overseas — look like Force Awakens money. Refn is a filmmaker defined by box-office failures, divisive productions, and iconoclastic choices, a filmmaker who has had mainstream success in spite of a far more common rejection. He inspires fierce loyalty from his actors, who often make multiple films with him, and yet the resistance he's met from critics and audiences has been so fierce that his wife, the director Liv Corfixen, made a documentary about it.
His new movie, The Neon Demon, extends many of these threads. It serves as a showcase for its star, Elle Fanning, and surrounds her with a loaded cast, including Hendricks, Jena Malone, Keanu Reeves, the odd and intriguing young American actor Karl Glusman, and terrific newcomer Abbey Lee. It's visually unhinged, an oversaturated Day-Glo indulgence of excess as well as a pointed critique of materialism. (Refn says he's drawn to high contrasts because he's colorblind.) And its characters are solipsistic, unable to connect, stuck in a hypermodern state of isolation.
But most of all, The Neon Demon sees Refn double down. Instead of licking his wounds after Only God Forgives and seeking out safer ground, Refn partnered with a pair of female writers to create a nightmarish version of the fashion industry that, he says, allows him to "live out my perverse dream of being a 16-year-old-girl, which I think every man has inside of him." Once again, his work seems to exist just as much in his own head as it does in any version of reality, and he continues to use a style so self-conscious and overt that you either have to accept it wholesale or risk being overwhelmed by the deliberateness of the whole thing. It's easily one of the most intriguing and entertaining films of the year, a beautiful, bizarre exception to any rules you can think of.
It's the opposite of franchise, Cinematic Universe filmmaking: Nicolas Winding Refn's movies could not be anything other than Nicolas Winding Refn movies, and their director seems to understand this; he's taken to branding his title screens with his initials like he's Yves Saint Laurent. And as long as he continues to work with slim budgets — Only God Forgives might've made just $10 million, but it only cost five, and for all its lavishness; The Neon Demon had a very reasonable $7 million budget — there will be producers willing to fund such headline-generating filmmaking, particularly if A-list actors continue to take the roles happily. In our current movie landscape, Refn's the rarest of creatures: a director dedicated to his own vision above all other concerns. I love it; you might hate it. But you've at least got to give him some credit.