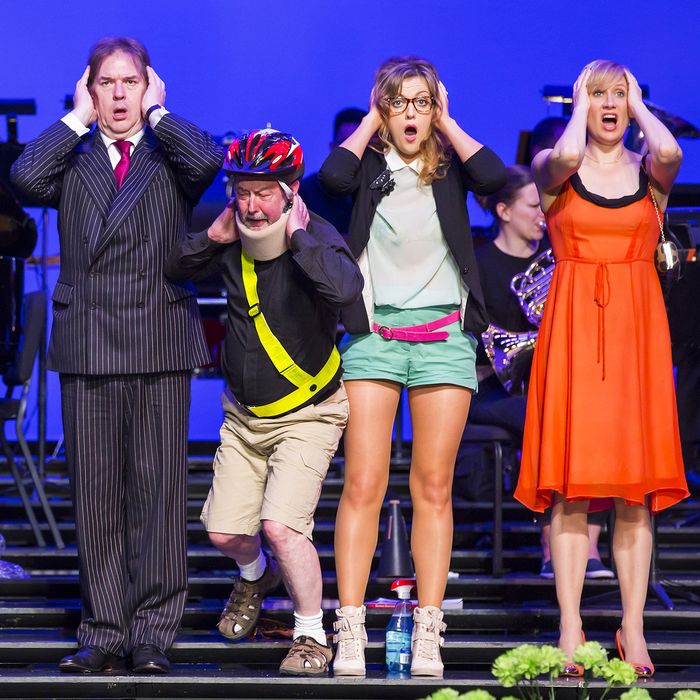 From the New York Philharmonic's Biennial 2016 performance of The Importance of Being Earnest.
Photo: Chris Lee
The idea of turning Oscar Wilde's meringue-like comedy The Importance of Being Earnest into an opera is the sort of thunderclap that comes to you late at night over a bottle of bourbon and that you instantly regret in the morning. Wilde's language whirls by in mists of sparkling nonsense, whipping the absurdities of Victorian society into a light verbal froth. Everything depends on the actors' pacing and clarity: By the time you register one line's impact, another shoots across your ken demanding its own burst of laughter. Opera moves at a more sluggish pace, doling out lines with all their syllables bent out of shape. A two-hour play, left unbowdlerized, would make a four-hour libretto. The British composer Gerald Barry understood all this, and you have to admire the gumption of an artist who makes the best of a rash decision and decides that if he couldn't do justice to a comedic classic, at least he could betray it with panache.
Barry's version, completed in 2010, arrived at Lincoln Center as part of the New York Philharmonic Biennial, after delighting critics in London, L.A., and France. In the U.K., the Spectator called it "dangerously, anarchically hilarious." And yet wit's not high on the opera's list of virtues. Instead, Barry and director Ramin Gray overlay Wilde's verbal virtuosity with a barrage of surreal slapstick and high-strung grotesquerie. It's only mildly funny, certainly not dangerous (except sometimes to the singers' ankles), and might as well be based on an Albanian translation of a Marx Brothers movie for all it has to do with Wilde.
The stage business seems desperate to entertain. As Gwendolen, Stephanie Marshall announces her engagement while sitting on her intended's chest. Later, she and Cecily holler into megaphones while a Philharmonic percussionist smashes dinner plates on the stage, one by one. Food is gobbled, smushed, and thrown. Cecily (in hot pants) lands Algernon (who bravely mixes camouflage trousers, floral print jacket, and striped shirt) with a fishing net. Vases full of plastic chartreuse flowers stand in lieu of a chorus, and the stage gradually fills up with enough debris to nourish a landfill. In the theater, David Suchet and Brian Bedford have both played the imperious Lady Bracknell in drag; here, neither Alan Ewing's pinstriped suit nor his cavernous bass make any concessions to gender.
Behind all this antic fury is a composer of serious talent and impressive technique, who maintains a firm control on the chaos. Barry writes out the interpretation of nearly every line. As Cecily, Claudia Boyle emits a series of high-register chirps, literalizing the character's birdbrainedness. Benedict Nelson reels off Algernon's patter, which periodically hits a glitch and jumps to a stuttering shriek. Nearly every time, the delivery overshadows the words. The orchestra, which shares the stage, keeps up a raucous commentary that never obstructs the vocal acrobatics. With deadpan aplomb, the Philharmonic's players, conducted by Ilan Volkov, serve up every strange wheeze, skittering brass spasm, throaty basso blast, and manic percussion nattering that Barry ordered. This wildly meticulous score might make a fine dark comedy in the tradition of György Ligeti's Le Grand Macabre, instead of a machine for crushing clever wordplay and recycling it into gaudy hysterics.
The Importance of Being Earnest is at the Rose Theater through this Saturday, June 4.