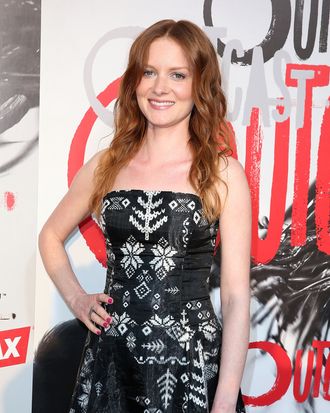 Photo: Phillip Faraone/Getty Images
Spoilers ahead for the most recent episode of Outcast.
Forget the holy water and levitating children.While creator Robert Kirkman's new Cinemax drama Outcast may be marketed as a story about Kyle Barnes (Patrick Fugit), a man with a special gift at exorcisms who teams with a small-town reverend (Philip Glenister) to save some souls, it is actually a show about recovering from emotional and physical abuse.
This is made abundantly clear in a scene toward the end of the fourth episode, in a scene focused on Wrenn Schmidt's character, Megan, Kyle's foster sister. Megan enters Donnie's (Friday Night Lights' Scott Porter) hotel room, the man who raped her when they were both children, with a gun in her purse. She confronts him for what he did, warns him to leave her and her family alone, and leaves feeling confident she handled the situation … unaware that her police-officer husband, Mark (David Denman), also has plans for her attacker.
Vulture talked to Schmidt about her big scene, and what it says about her character.
Megan and Kyle's ex-wife, Allison (Kate Lyn Sheil), both have reddish hair. Is this meant to be a theme about the women in Kyle's life?
Yeah … There's something too about the way this show has been shot. Even just the color palette where people with fair skin almost pop on screen. We look more dramatic, within that mold, with dark hair.
Kyle is the type of person who wants to protect people, but Megan is the one really trying to take care of him in the first few episodes. What were your conversations like with Kirkman and showrunner Chris Black in developing your character?
A lot of it was in the script. I had a few questions, but they were more questions about backstory, and I wanted to make sure we were on the same page. One of the great things about our creative team — or any creative team — is there's input from all parties. At my test audition, I asked Robert and Chris a few questions about Megan because there were things I wanted to understand. But then it was all there in the writing. It was just that you had to look at it. For me, a big part of it is that humor, which is very dry.
But it's interesting that you say that Kyle feels like he has to protect people. For Megan, what's really great is that Kyle protected her when she couldn't protect herself (when they were kids). And now that's been flipped. She's like, you had my back and now I have yours. That's something that carries through her relationship with Kyle, and probably always will.
The scene where you confront Donnie in the hotel room is very powerful. How did you prepare for that?
The first thing for me is, I want this to be as dynamic and layered as possible. It's not an easy subject matter, but it's something I wanted to … "do justice to" doesn't give it enough weight.
I, myself, have had an instance of that in my life. For me, what was important in that episode was trying to understand how Megan could risk everything to go in the hotel room with that gun in her purse. And than all of a sudden, it clicked that it was about her rewriting the end of her story. It was about her taking the power back and saying, "I am who I am regardless of what you did to me. "
It's very much who she is as a person. She's created this identity for who she is. I didn't want to do too much research about being a victim of sexual assault. I wanted to draw upon my personal experience with that, which thankfully was a very small and minor incident. But it was very much understanding that you do create an identity for yourself that's not about being a victim. That's so much about what that hotel room scene is. It was about that and about how Megan was so thrown by him. It was about those two things at the same time. What was also really great was that Scott didn't play the obvious villain. He came from the angle of, he's a person and he made a really bad mistake.
How do you feel about the fact that Megan is seen confronting Donnie in her way before Mark tries his approach?
What's really great is that scene at the end of the episode where they're talking. What's really interesting about the show is the ways characters hide from each other. For instance, Allison and Megan used to have a great relationship and are still struggling to have a great relationship even if they're not 100-percent honest with each other. It's the same thing at the end of this episode. It's beautiful that Megan and Mark, in their own way, try to fix the situation. But they both make really bad choices.
This show is less about supernatural demons and more about abuse.
You could say that this show is in some ways about that. You could also say that, in some ways, this show is about identity. Each person in our show is struggling very hard to maintain their sense of identity.