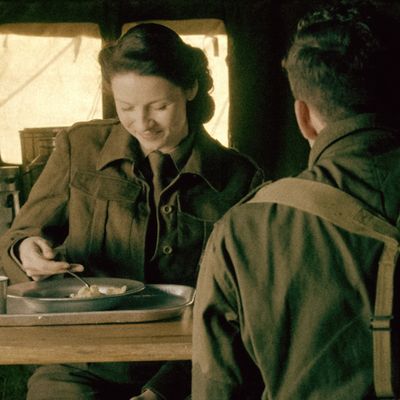 Caitriona Balfe (left) as Claire on Outlander.
Photo: Sony Pictures Television
Spoilers ahead for the most recent episode of Outlander.
As our favorite Scottish highlanders prepare for their battle against the British, Claire starts having flashbacks to World War II. Given how little she's even talked about her experience as a combat nurse, you might wonder why it's weighing upon her now — especially given that in the books, she wasn't suffering from PTSD. (Or shell shock, as she might've called it).
"I was always curious about what happened to her in the war," show writer Matthew Roberts explained. "Claire's WWII story is kind of sprinkled in the books, but there's not a lot of detail about it."
Because Claire's story, as told in the books, is very internal, Roberts tried to think of a way to visualize this aspect without a lot of voiceover. It seemed to fit with the episode where the soldiers are in training, so he pitched the idea of Claire suffering from PTSD — the writers' room, as well as actress Caitriona Balfe, loved it. "I thought it was great, because everything that she's gone through in Paris, she's a more fragile woman than we've seen her before," Balfe said. "Yes, there's been a lot of healing, but her armor has definitely been dented." (Plus the idea meant that Balfe could wear trousers again, "always a relief!")
Roberts and Balfe started researching PTSD, visiting online forums, talking to soldiers, and watching documentaries. But one of the things that informed the script most was Roberts's past work as an EMT in Los Angeles. Before he was a writer, he learned how hard it could be if you got a call to treat someone you know and love. "It's not easy to disconnect," he said, "but it's easier to disconnect when it's not someone you love. They aren't just soldiers coming off a battlefield that she never met before, where her training can just take over. It's Jamie, and it's Angus, and it's Rupert. It's not a wound anymore. It's a whole person."
Claire flashes back to a time where she did get to know two soldiers a bit before they died. She meets Corporal Grant and Private Lucas in the mess hall, where she picks up her trademark curse — "Jesus H. Roosevelt Christ!" — and tries to explain blood sausage/black pudding. Balfe enjoyed playing a younger Claire, who wasn't quite innocent, having already experienced some of the war, but still lighter than the Claire we know now. But then she gives them a ride, and her jeep is shot down — a memory triggered by the gunfire at the Scottish shooting range. "Something small can trigger a massive memory," Roberts said.
"This whole flooding of images from her experience in World War II, the implications of what war means, it has a catastrophic effect on her nervous system," Balfe said. "She's never really had time to absorb those events, because sometimes with PTSD, you can bury things for an awful long time. You have these triggers, and something starts bubbling up if you haven't dealt with it."
Claire collapses to the ground as she relives her experience. "Pounds and pounds of dirt" were thrown on Balfe for the explosion sequence, which made it difficult to breathe. "It's physically challenging," she said. "And you're trying to find the right balance where someone is feeling so raw, so uneasy, to have that gnawing anxiety, to make it as honest as possible. It's almost as if she's crawling out of her skin. It's pretty grim."
Roberts wanted to show that even though Claire herself was not a soldier, all the people who support the troops — from trauma and combat medical staff to chaplains — can be affected by the war, too. "Picking up the pieces, it can be just as traumatic as it is to go and fight," he said.
Claire doesn't fully understand what's happening — which is why she isn't able to diagnose herself, or explain it to Jamie. "It's as if someone who has a migraine is trying to describe it to someone who has never suffered from them," Roberts said. "She's so confused by her own internal feelings, she's unable to focus on the person in front of her," Balfe said. "That's when she lashes out. She's unnerved. She's raw."
Roberts hopes the Outlander depiction helps destigmatize PTSD, because of the high rate of suicide in combat soldiers. "It's heartbreaking," he said. "They're not getting treatment because PTSD has a stigma."
For her part, author Diana Gabaldon welcomed the addition to the story. "Claire knows exactly how horrible war is, and thus may have a better knowledge of what they're facing than do any of the men with her," she said. "Seeing its lasting effects on her, we understand her desperation to stop what's coming."