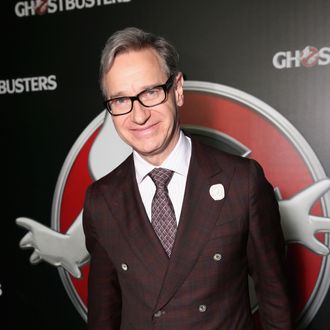 Feig.
Photo: Todd Williamson/2016 Todd Williamson
It's fairly well-known by now that the upcoming Ghostbusters reboot — starring Melissa McCarthy, Kristen Wiig, Kate McKinnon and Leslie Jones — has not been warmly received since the project was announced in 2014. McCarthy and Jones have already spoken out about the film's various criticisms, and now director Paul Feig has also chosen to opine on the backlash. "I have been hit with some of the worst misogynistic stuff," he told the audience at PGA's annual Produced By conference. "The onslaught that came in was just so chilling … I used to [hear] that people had haters and I was like, How does that happen?" The film's trailer, for instance, has now become the most-disliked film trailer in YouTube history.
"We still get called, in the press, a 'chick flick,'" he continued. "We are never not referred to as the 'all-female Ghostbusters,' which makes me crazy. It was my idea to do it all-female. I wanted to do an origin story and I thought the best way to do it was by doing it with the funniest women I know." Feig also added that he is still struggling "every day to go against" a misogynistic bias, even though it's his fourth film as a director with female leads: "It's just an uphill battle and I can't believe we are having to deal with it." Ghostbusters will be materializing into theaters July 15.