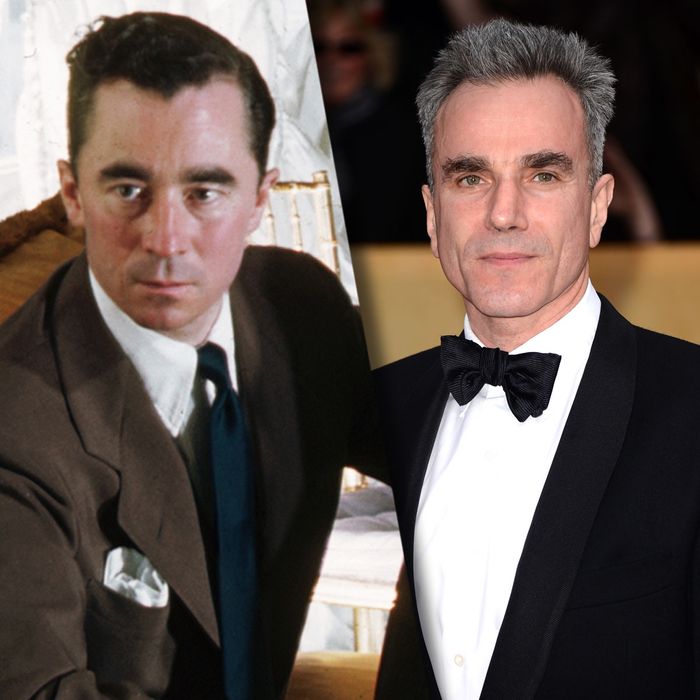 Update, September 8: Today, Universal and Focus Features picked up the rights to Paul Thomas Anderson and Daniel Day-Lewis's film, which is still untitled, at the Toronto International Film Festival. Production is planned to start next year with a $35 million budget in time for a late 2017 release.
Our original post appears below.
The June 2 announcement that director Paul Thomas Anderson would be reuniting with Daniel Day-Lewis for his next film had the industry buzzing: Day-Lewis has not made a film since 2012's Lincoln, and his return to the screen could hardly come under better auspices, since he won an Oscar for his terrifying, iconic work as oil baron Daniel Plainview in Anderson's There Will Be Blood. But fans of Anderson have little to go on when it comes to the new project's log line. Unlike Anderson's last movie, Inherent Vice, which was adapted from a well-known Thomas Pynchon novel, his latest film has no name and its plot remains under wraps; all that Variety could divulge about it is that it will be set in the New York fashion world during the 1950s.
Still, even that slim thread provides a few clues. Anderson often makes films that are inspired by real people — Boogie Nights lead Dirk Diggler was a takeoff on porn star John Holmes, for instance, and Philip Seymour Hoffman's spiritual leader in The Master was clearly patterned on Scientology founder L. Ron Hubbard — and since the new project has such a specific milieu, we sought to identify a figure from the fashion world during that era that Day-Lewis could conceivably play. Let the well-researched speculation begin.
While New York came into its own as a style capital after World War II, the 1950s were mostly dominated by designers who lived and worked in Europe, like Christian Dior, Pierre Balmain, and Cristóbal Balenciaga, so if you presume that Day-Lewis's character is a notable fashion designer — and given that the actor is in his late 50s, it's not likely he'd be playing some mere lackey — then there are only a few notable, New York–based designers from that time who seem like they could be plausible subjects.
One of them is Mainbocher, one of the most in-demand couturiers of the era, who famously designed the wedding dress for American socialite Wallis Simpson as she prepared to marry the abdicating King Edward VIII of England. (The story of the that coupling was told recently in Madonna's critically panned directorial effort W.E.) But we suspect that if Anderson is indeed making a movie inspired by a New York fashion designer in the 1950s, he'd be most drawn to Charles James, who created some of the most audacious, expensive gowns in the world and even dressed other titans of couture like Coco Chanel. His was a life full of terrific drama, and like several other Anderson protagonists, James was a mercurial mastermind, a prodigy around whom an interesting adopted family formed.
The British-born James came to America as a teenager, though not before a controversial stint at school that saw him yanked from Harrow for wearing makeup. The precocious James thrived in his new country, opening up a hat shop in Chicago at 19, then moving to New York to design and sell dresses at age 22. He made an impression with his famous taxi dress, which was boldly zipped around the torso, and quickly became a favored couturier of dynamic women like Marlene Dietrich, Babe Paley, and Gypsy Rose Lee. In the '40s and '50s, he was a fashion-world sensation and, reportedly, something of an egomaniac. As one biographer put it:
He considered himself an artist rather than a dressmaker, and was so strongly attached to his creations that he felt they ultimately belonged to him. He would borrow back a dress from one client, only to lend it to another; or, worse, loan it out for an advertising campaign for feminine products. At minimum eccentricity, the darkly handsome designer — who was said to have been an excellent model for his own work — might don a finished gown and dance all night in his apartment above the Chelsea Hotel before handing it over … if he handed it over at all. He did not let go of his creations easily. He made his clients pay, sometimes twice for the same gown, and sometimes for a garment he had also promised another client. He was notorious for not having garments delivered on time.
James's personal life was just as hectic. A gossip and man-about-town, he was given to mood swings, and he once tried to kill himself over a boy he had romantic designs on. (Even that attempted suicide had a fairly fashionable outcome, as James was rescued and cut down by his neighbor, Jean Cocteau.) While he romanced men in plain sight, his sexuality was complicated; after one fling with stage designer Keith Cuerdon, James stole Cuerdon's wife, Nancy, and married her himself. It's no wonder that James's dresses were draped so dramatically, given all that was going on behind the scenes. As Patricia Mears, who oversees the James collection at the Brooklyn Museum of Art, said to Vanity Fair, "Each dress reflects his tortured soul. He's trying to deal with his own sexuality, his own conflicts in life."
Though his dresses were among the most expensive in the world, James was a profligate spender, and merely staying afloat and paying the rent was a suspenseful enterprise for him. (He once emptied a jar of cockroaches on the front desk of the Delmonico Hotel in an attempt to evade his debts there.) Mired in lawsuits, inattentive to his tax obligations, and irrevocably drawn to burning bridges in the fashion world, James's business went under in the late '50s, though he remained a charismatic society figure until his death, in 1978. Recently, there has been a resurgence of interest in his brand: James was the muse for the Met Gala two years ago and the subject of a recent New York Magazine article, and nearly a year and a half after Harvey Weinstein released Anderson's 2012 movie, The Master, Weinstein announced that his company had struck a deal to acquire the Charles James label.
Is that a clue about Anderson's next film (which is currently set up without a studio) or mere coincidence? Nobody involved with the project is talking, but whether or not Anderson's '50's-set fashion drama draws inspiration from Charles James, there's no denying the cinematic contours of James's wild life. Filmmaker Angela Bernhard Thomas recently helmed a documentary about James entitled Beneath the Dress, and even the artists in James's orbit have begun to entice Hollywood; Antonio Lopez, a fashion illustrator who enjoyed a notable friendship and collaboration with James, is set to be the subject of another documentary (and with good reason, because the man lived a crazy life that included plucking Jessica Lange out of a French mime school to give her the imprimatur of a superstar). James, his adventures, his friends, and his obsessions would certainly make for a terrific Paul Thomas Anderson film and give Daniel Day-Lewis a compelling new character, but even if our hunch is incorrect … well, we're sure Charles wouldn't mind a rumor linking him to two more fabulous artists with boldfaced names.