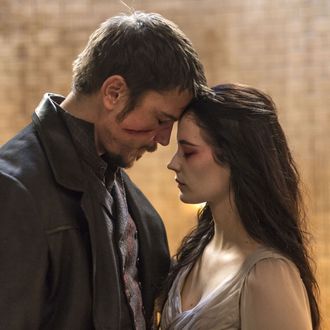 The hundredth of a buck stops here.
Photo: Patrick Redmond/SHOWTIME
Spoilers ahead for the third season finale of Penny Dreadful.
If you watched last night's season finale, you might have seen this coming: Penny Dreadful has come to an end — or "THE END," as the series put it in its closing credits. Showtime's Gothic drama will not return for a fourth season. Creator John Logan confirmed the news to TVLine, saying the decision was made in advance of this season, mostly because he had sketched out an arc for Eva Green's Vanessa Ives that ended in her death, and her death would mean the end of the show. "Would I have loved to keep telling her story for ten years?" Logan said. "Yes. But that would've been an act of bad faith. Vanessa's struggle had to end, and it had to end in peace." Wait, but what about zombies? We'd watch a show where Eva Green is a zombie, or where Eva Green is any being, alive or dead, honestly.