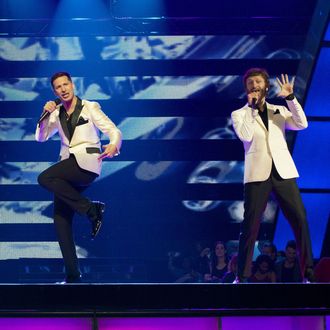 Photo: Universal Pictures
This was (mostly) a very bad weekend at the box office. Teenage Mutant Ninja Turtles: Out of the Shadows, a sequel no one needed in their lives, premiered to unkind reviews and $35.2 million, slightly more than half what its predecessor made on 200 fewer screens in 2014. Tepid weepie Me Before You jerked tears, and $18.2 million, from moviegoers, which was far more than the Lonely Island's well-received Popstar: Never Stop Never Stopping made. The cameo-studded comedy failed to find an audience, bringing in only $4.6 million, which is barely $500,000 more than MacGruber made its opening weekend six years ago. (The Dissolve had a fun piece on why MacGruber bombed. RIP Dissolve.) Maybe the marketing campaign, which made the movie seem like an SNL digital short, inspired people to just wait for it to hit Hulu. X-Men: Apocalypse and its bored-looking ensemble cast dropped 66 percent its second weekend, making $22.3 million domestically, though it did well in China, where it made $59 million.
Zootopia provided the weekend's sole good news. It became only the fourth animated film to cross the $1 billion mark globally, and the second film of 2016 to do so, behind Marvel and Disney's gargantuan money-maker Captain America: Civil War. It's now the second-highest-grossing Disney film, after Frozen, though Zootopia didn't have a ubiquitous song to pervade popular culture like Frozen did (you know the song).