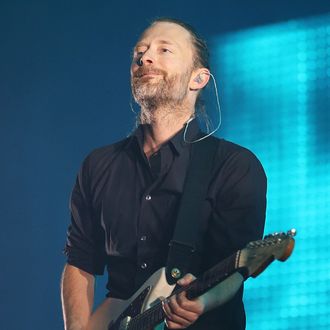 Photo: Mark Metcalfe/2012 Getty Images
During the global listening party for Radiohead's A Moon Shaped Pool, a group of men broke into Istanbul record store Velvet IndieGround Records and accosted employees and listeners. The group was allegedly mad that the listening party coincided with Ramadan, the Islamic month of fasting. Velvet IndieGround was one of hundreds of record stores participating in the event, and the only one in Turkey. Following the attack, the band released a statement condemning the violence.
"Our hearts go out to those attacked tonight at Velvet IndieGround in Istanbul," the band said. "We hope that someday we will be able to look back on such acts of violent intolerance as things of the ancient past. For now, we can only offer our fans in Istanbul our love and support." The attack was live-streamed on Periscope. No one was seriously hurt.