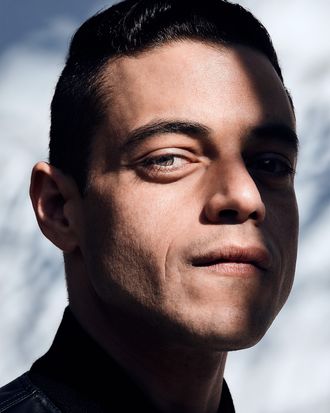 The 2016 Emmy race has begun, and Vulture will take a close look at the contenders until voting closes on June 27.
Rami Malek is walking quickly down Varick Street in Soho on a sunny, spring afternoon. He keeps his head down, trying to be as inconspicuous as possible, considering there's a cameraman trailing him and he's about to be photographed in broad daylight. But it's no use: Malek has an immediate, palpable effect on the surrounding one-block radius.
"You're on the best TV show on television!" a woman cries out from a passing car. A cab driver honks and waves. "Mr. Robot!" yells another guy. Malek's face lights up with a big smile, the kind of expression you'd have a hard time catching on Elliot Alderson, the revolutionary hacker and tormented soul he plays on Mr. Robot, the Golden Globe–winning drama that also earned him a Globe acting nomination, and is transforming the USA network's image.
"He didn't say I, Robot. That's nice," Malek notes. "I get that a lot."
During the photo shoot, a teenage girl spots Malek and waits patiently around the corner, cell phone clutched at the ready in her hand. Malek walks up and explains he is not allowed to take a photograph with her today — rules of the shoot — but he'd like to thank her for watching the show. As he turns to cross the street, she whines after him, "But no one's gonna believe this."

"No picture, didn't happen," Malek offers sympathetically. This is par for the course in the year since he made his public debut on USA's out-of-nowhere critical hit last summer. So far, Malek is Zen about it. He understands his privacy will be compromised for some time, and may never return to normal, but he's more thankful for the show's reach than he is bothered by any loss of anonymity. "I'll take that over losing a little bit of my privacy any day," he says. Beyond all that fame brings, Malek says he's more cognizant of how technology is harming the ways we socialize and relate to one another. And as his star continues to rise, the 35-year-old is retreating inward. It's a consequence of spending so much time in the hoodie and shoes of a cynical cybersecurity engineer who hacks at night and suffers from social anxiety and clinical depression.
"It's a very vulnerable process being in Elliot's shoes because I can't help but ask the same questions of myself that he poses in the show," Malek says, two weeks into production on the second season. "Sometimes that can be quite devastating." He adds, "But there's something very comforting, sadly, about putting that dark wardrobe back on. It draws a lot from me as a human being and an actor. Once we started shooting again, there was a sigh of relief that came over me, even though I knew I was going into some pretty dark waters."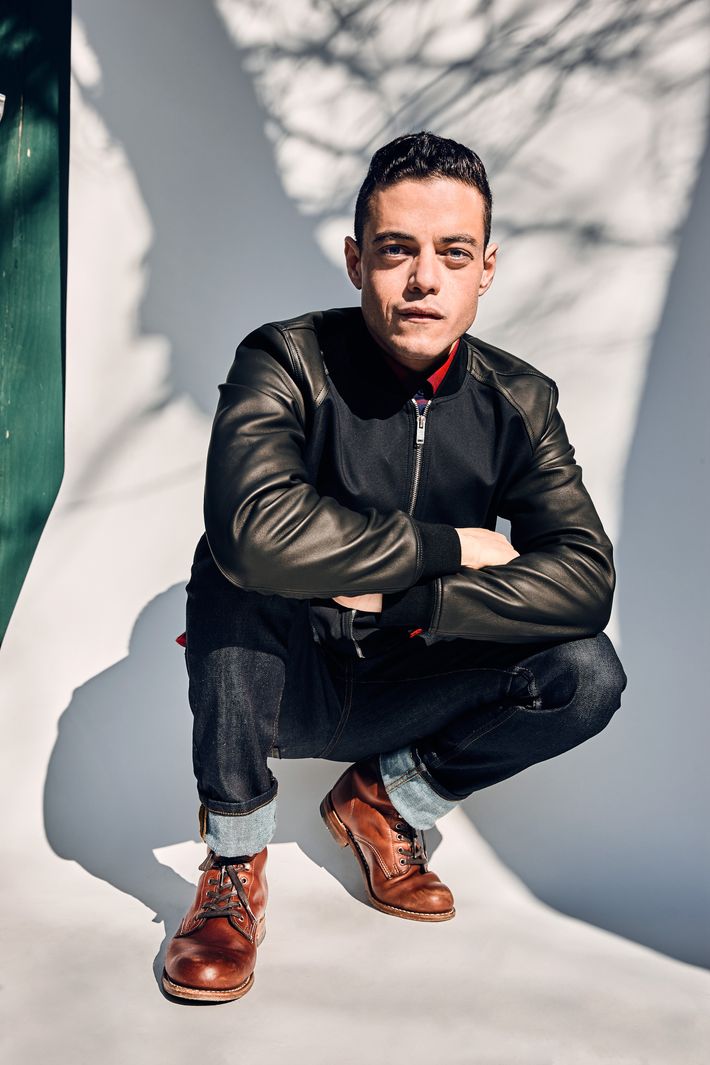 The last time viewers saw Elliot, he was confronted with the truth that his father, who died of leukemia when he was a boy, has been a delusion all along, and Mr. Robot is actually Elliot. The new season finds Elliot squaring off with himself now that he realizes his father (Christian Slater) is a fantasy and that he actually masterminded the taking down of E Corp, eliminating most of the world's debts in the process.
Elliot's new understanding poses an entirely new acting challenge for Malek, who knew about Elliot's hallucinations before he filmed the pilot and had to be mindful not to give that away in his performance last season, especially in scenes with other actors. "In the first season, I treated Christian's Robot as I would treat any other character. That was Elliot's reality," he explains. "Delving into the second season, you have Elliot facing this realization that none of what he was seeing was real. To acknowledge that type of psychosis is a very scary place."
A prestige drama on the USA network may have come as a surprise to critics and viewers, but Malek knew he wanted to play Elliot since he read the first words in creator Sam Esmail's pilot: "Hello, friend." The script made him feel like he was reading a play, and Malek, who had interned at the National Playwrights Conference in Connecticut, learned early on from theater legends like August Wilson. "He would smoke quite a bit, so I would run out and buy him a carton of cigarettes and then hoard them and give him a pack every time I wanted a life lesson," Malek recalls. "He appreciated smoking [so] much that he would bear with me. I needled him for answers about being in this profession, and life in general, but while I was there I discovered what great writing was. Reading the pilot of Mr. Robot gave me that special feeling — I know it's really good when I take a long time to get through it. I wanted to savor every page."
Before Robot, Malek — who is likely to earn an Emmy nomination next month for his performance — was mostly known for his supporting roles in Short Term 12, the Night at the Museum movies, and the HBO mini-series The Pacific. But after becoming TV's biggest breakout star last year, Malek landed his first film role in Sarah Adina Smith's indie mystery Buster's Mal Heart. In the film, Malek plays a mountain man who discovers — wait for it — he is one man existing in two bodies.
"I find that I'm getting calls for the guy who plays crisis well," Malek laughs. "I don't know what that says about me, but it scares me. People have always seen me as someone who can play dark characters. I hear the word 'quirky' thrown about quite a bit. A lot of the characters out there are struggling with this idea of who they are and how they fit into their societies — these are very basic human struggles that audiences are relating to and are eager to see more of."
Malek generally prefers it that way. "I've done some comedic roles here and there," but mostly he's gravitated toward characters on the fringes of society. "That's something I've really enjoyed," he says. And while he has no future projects confirmed as of yet, it's not for lack of interest. Malek is confident a "great" opportunity will follow the second season of Robot. "I met so many people at these awards ceremonies and I'm just like, 'And you, I'd love to work with,'" he says. "And to have them respond in a similar manner is something that is just a very rewarding and humbling feeling."
Given the choice, working with Cary Fukunaga would be at the top of Malek's wish list. "I love what he did with True Detective and Beasts of No Nation," he says. "Those are two very different projects that he brought such a clear and dynamic vision to." Regardless who he teams up with, talking to Malek, you get a sense Robot is just the beginning of his story. "There are many, many scripts being sent my way. The phone calls I've had, it's those moments where you're still on the phone and you hear the dial tone," he laughs. "I just haven't been able to hang up quickly, like, 'Wait … did that just happen?'"