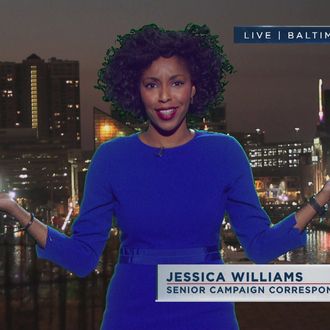 It was announced today that after four years as the youngest-ever correspondent on The Daily Show, Jessica Williams will be stepping down at the end of the week in order to pursue a new comedy pilot for Comedy Central. (Specifically, about "a politically minded young woman" in her 20s "who may be 'woke' but doesn't know what she's doing." Should be fun!) To celebrate and to acknowledge all of the witty, thought-provoking work she's done (particularly on race and gender) for the show since making her debut in January 2012, we've rounded up some of the best segments from her tenure. We encourage you to add your favorites in the comments, too.
"Northern Over Exposure"
On former Toronto mayor Rob Ford's steady popularity, which never dwindled despite his … interesting lifestyle choices.
"Beyoncé's Halftime Show Message"
On Beyoncé's "controversial" Super Bowl 2016 half-time performance.
"Assault Swim — Progress in Community Policing"
On a pool party in Texas that ended with police assaulting a group of black teenagers.
"Jessica's Feminized Atmosphere"
On modern-day sexism faced by women just trying to walk on the street.
"The Fault in Our Schools"
On the constant fear of sexual assault faced by women at American colleges.
"2015 'Mercun Awards"
On the most "American" story of the year, with a little help from Samantha Bee.
"Unjustified — Michael Dunn & Jordan Davis"
On the controversy surrounding "Stand Your Ground" gun laws.