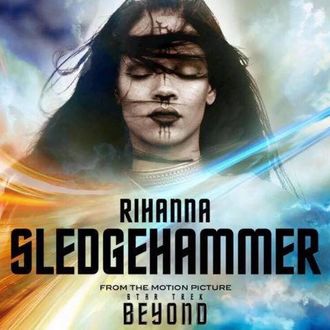 Photo: Rihanna/Instagram/Rihanna/Instagram
Rihanna to the rescue, here to make your chronic case of Sunday afternoon ennui a little easier to bear. As RiRi teased earlier today on Instagram, tomorrow she'll drop her new single "Sledgehammer," which will appear on the Star Trek Beyond soundtrack. Fair warning, the Insta is about as teaser-y as teasers get. A handful of musical notes, some Star Trek clips, cover art … and boom, we're out.
Internet sleuths unearthed a 2014 tweet from Rihanna, suggesting that this song has been in the works for years.
Rihanna's been making headlines left and right his week. Her image was featured in Kanye's instantly-infamous "Famous" video; and in an interview published earlier this week, her collaborator/cheerleader Chris Martin called her the "Frank Sinatra of our generation" while also comparing her voice to a "beautifully squeezed tube of toothpaste." (It was a compliment, we swear.)
We might get "Sledgehammer" on Monday, but we'll have to wait another month for Star Trek Beyond, which hits theaters on July 22.