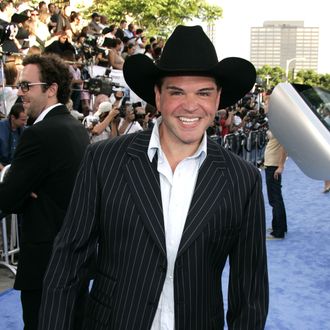 Photo: SGranitz/This content is subject to copyright.
Ron Lester, best known for his role as the offensive guard in the coming-of-age sports film Varsity Blues, has died at the age of 45 following kidney and liver failure. According to his agent, he "was not in any pain and passed away peacefully" on Friday in Dallas, Texas while surrounded by family and friends. He had been hospitalized for about four months prior to his death. Once weighing more than 500 pounds, the Georgia native decided to undergo gastric bypass surgery in 2000, nearly dying when he flatlined during the operation. He spoke candidly about his weight loss in an interview with Grantland, saying: "Did I throw away my career to be skinny? Yes. I wouldn't do [the surgery] again. I would much rather have died happy, rich, and kept my status and gone out on top."
His other roles include the films Not Another Teen Movie, Good Burger, and Dill Scallion; on television, he had a recurring role on Popular, and made small appearances on Freaks and Geeks, Sabrina the Teenage Witch, and CSI: NY.