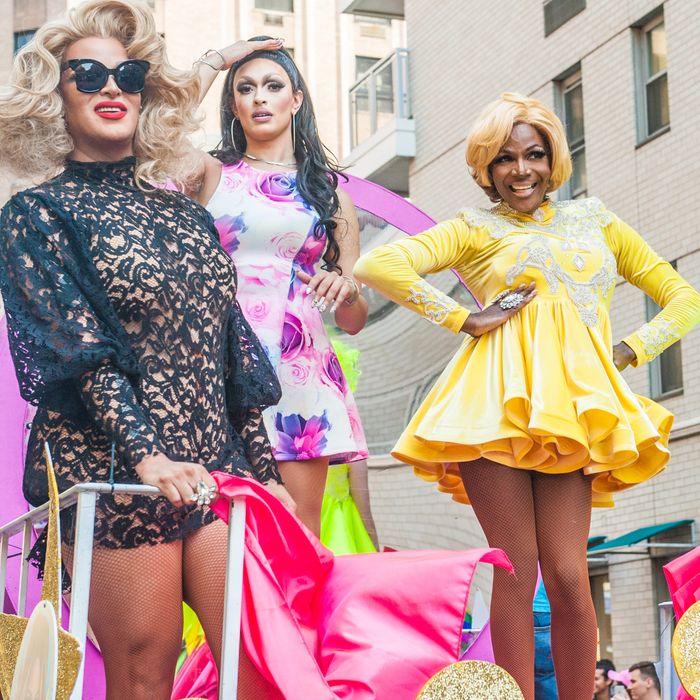 RuPaul's All Stars Drag Race season two contestants Roxxxy Andrews, Tatianna, Coco Montrese, and Detox at the NYC Pride Parade.
Photo: TheRagsy
If last year's pride parade was marked by a raucous celebration of the legalization of gay marriage, then this year's was tinged with tragedy. I was aboard the float for RuPaul's All Stars Drag Race, the 36th group to take off on Sunday, behind the first entrants, Barbara Poma, the owner of Pulse, and Neema Bahrami, a manager at the Orlando club where 49 people died and 53 were injured in the worst mass shooting in American history, that targeted the queer Latino community. Just behind them was another reminder of the stakes: a procession of marchers, led by a drag queen holding a disco ball up high, each of them clad in white with organza veiling their faces and placards with the photos and names of the deceased around their necks. If the connective thread that runs through the queer community can feel ever-tenuous, it tugged and gathered people together on Sunday at New York City Pride, which at an estimated 32,000 marchers was the largest Pride parade in history.

Drag queens have been iconoclasts in contemporary culture since the days when it was illegal for men to dress in women's clothing. They're an actualization of the theory that gender is a performance, and moreover, that it can be hilarious. As fixtures in the modern gay club, after Orlando, New York City Pride was a moment to reassert that importance. Detox, the season-five contestant with the jaw-wiggling lip-syncs told me, "If anything it should make us all stronger and be even more gay." Nowhere was the resilience of drag more evident than on Sunday when Logo's float carrying upcoming contestants of RuPaul's All Stars Drag Race season two, Roxxxy Andrews, Detox, Tatianna, and Coco Montrese, drove down Fifth Avenue.
They're a well-known foursome, with each of them ready to take another shot at the crown as America's next drag superstar when the new All Stars season airs on August 25. There was Detox, who wanted to do his "quintessential, over-the-top campy pride moment" by wearing a neon green dress, visor, and wig. There was Roxxxy Andrews, the master of the fierce casual pose in a lace dress she had whipped up in ten minutes; Tatianna, who gave great side-eye every time the procession stalled, in a floral print; and Coco Montrese, who never stopped dancing in a canary yellow dress. They signed pride flags, posed for photos, and danced on the wooden dais made to look like a pink compact mirror, in front of a giant, inflatable RuPaul. Pride is the gay club brought out onto the street, into the sun. Pride is a way of saying, We must be beautiful in our mourning.
"I worked at Pulse for ten years," Roxxxy Andrews, the season-five pageant queen from Florida, told me. "It was like a home. We really made a family. I lost five really good friends. The rest were people you see every night — they tip us, they take pictures with us, and you remember those memories. It's hard, but we've got to live on and dance for them. That's what they were doing, dancing."
It wasn't just Roxxxy who had a personal connection to the Orlando shooting. Pulse was also instrumental in launching Detox and Coco Montrese's careers.  "Pulse was one of my first bars that I worked at when I started doing drag, so it hits very close to home," said Detox. "I don't want to get into it because I don't want to start crying. It's been a tough couple of weeks, and I'm trying to keep positive today." The club helped Coco Montrese get to Miss Gay America in 2010 (which she won). "I'm a former Miss Gay Orlando," the Miami-born Coco Montrese said. "When I went to compete at Miss Gay America, Pulse was the club that actually did a benefit show for me to go. I always go back there when I perform."
Around 23rd street, when the procession stalled again, Tatianna gave me a little smirk as though to say, welp. Roxxxy Andrews and Tatianna took off their heels and Detox used the down time to bum a cigarette. Coco Montrese was still going, and when RuPaul's "Cover Girl" came on, she was dancing, twirling, and lip-syncing as though for her life. On the back of the float was its unofficial go-go dancer, Nico Tortorella (who plays Sutton Foster's younger boyfriend on Younger), wearing nothing but rolled-up leather shorts, heart-shaped rainbow sunglasses, and a tan hat. The actor recently made news for making it publicly known that he thinks of his sexuality as "fluid." "When somebody is like really comfortable with who they are and vocal about it, people get excited about it and talk about it," Tortorella said of the headlines. "Honestly I'm not putting too much weight to it. It's really no different for me and how I've been living my life forever."
I joked coming into this that it would be clear I didn't belong: There would be a float with four drag queens, loads of shirtless men, and me. (Instead, there was just a shirtless Nico Tortorella.) But of course, that's not what Pride is, nor is it the manicured white men who have often come to stand in for the queer community. As much as I lament the mainstreaming of pride, I'm also in awe of the fact that it is now de rigueur for every politician, local business, and major brand to drape themselves in rainbow paraphernalia. And when a man wearing just a bunny-skull mask, tighty-whities, and body glitter runs up to dance next to you, you remember too that there isn't any other day in New York City that feels quite as big and broad and generous. This isn't just difference, but a joyous exaltation of the love for difference. As the float moved on, I was reminded that there were so many of us in so many guises, each one distinct, and I felt myself getting swept away by the exuberance, by the sheer improbability of life. And so I put away my recorder and danced.